Feb. 19, 2020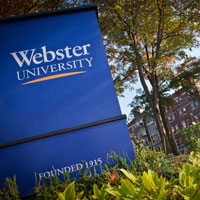 Webster University's Board of Trustees and University leaders are in the planning
stages of launching a major fundraising campaign that will advance Webster's vision
and mission. While fundraising from friends and alumni will continue across Webster's
many campuses in the extended and international network, this specific campaign will
focus on St. Louis.
Deans and unit heads have been identifying their highest strategic priorities and
needs, which are being vetted by the Advancement team and the University's chancellor
and president.
The next step in building the foundation for campaign fundraising will be securing
feedback about these proposed funding priorities from members of the St. Louis campus
community: staff, faculty, and students.
Staff, faculty and students are invited to attend one of these upcoming focus groups:
Focus Groups for Faculty & Staff:
Monday, March 2, 1 p.m.
Wednesday, March 4, 12 p.m.
Wednesday, March 18, 10 a.m.
Wednesday, March 18, 12 p.m.
Focus Groups for Students:
Monday, March 16, 2 p.m.
Monday, March 30, 12 p.m.
Tuesday, March 31, 12 p.m.
All sessions will take place in the University Center Sunnen Lounge.
In order to gain the most productive feedback from these sessions, the focus group
topics will be limited to gaining feedback about the proposed funding priorities and needs with these constituents.
tags: 
employee news,
faculty,
chancellor,
president,
advancement,
webster today,