Coronavirus has had a massive impact on fmcg sales. Not just in terms of shifting huge volumes of trade from the hospitality sector to retail, but at a category level. Understandably, it seems Brits are trying all they can either to avoid catching Covid, as seen with massive spikes in sales of ultra-strong household cleaning products and antibacterial gels, or through building up their immune systems with vitamin supplements or foods from mushrooms to spinach.
So surely then, faced with a global pandemic of a disease that attacks the respiratory system, you would expect to see smokers quitting in their droves and a noticeable decline in tobacco sales?
On the face of it, this doesn't seem to be the case. Sales of factory-made cigarettes rose 7.3% to £12.4bn for the year to 9 January, while rolling tobacco sales were up a whopping 36.3% from just shy of £3bn to just over £4bn.
Some of this can be attributed to inflation, with the government whacking up the duty on tobacco as it does every year. But volume sales of individual sticks is up 3.3% while the roll your own (RYO) category was up almost 30% by volume.
Still, it is difficult to get a complete picture of how Covid has affected the behaviour of smokers in the UK, with Action on Smoking & Health (ASH) simultaneously reporting that around a million people kicked the habit during the first lockdown last March. 
While for many the coronavirus has been the catalyst to quit or cut down, however, for others it has led them to smoke more – whether because of increased stress or boredom, or more opportunities to smoke with furloughing and increased home working.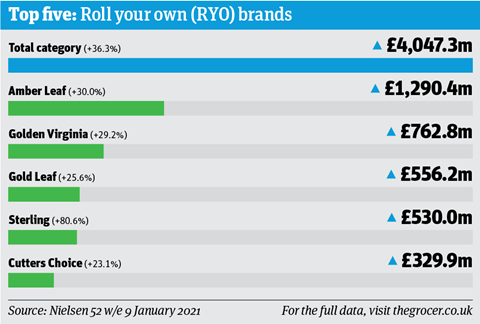 Before the onset of the pandemic, it was thought the most dramatic impact on the sector would be the ban on menthol and other characterising flavours in May. Some brands that were particularly strong in menthol, such as Sterling, have lost out but overall this impact has been small compared with the effect of the coronavirus crisis.

Premium brands have struggled in recent years due to the impact of downtrading across all tobacco sectors but there is evidence that this category has also benefited from the reduction in illicit trade.

Sales of leading premium cigarette brand Marlboro (Philip Morris International) jumped 10.5% by value to £815.9m.

Covid-19 enforced changes such as closed international borders and a lack of overseas travel had the greatest impact on RYO tobacco, because a higher proportion of this sector's sales is traditionally from illicit markets than factory-made cigarettes.

The RYO sector increased by more than £1bn or 36% to just over £4bn with volume sales up 29.3%.

The UK's biggest RYO brand Amber Leaf saw sales grow by 30% to £1.3bn, but sales rose double-digits for all the leading brands.
Kicking the habit
Indeed ASH cites a monthly tracking survey being carried out by researchers at University College London, which suggests that while levels of quitting during the pandemic remain high, there is also evidence many smokers are relapsing, particularly younger age groups.
ASH suggests this is why, despite finding that a record 8% of smokers stopped at some point in the last year, it has not translated into record falls in cigarette rates overall.
A separate YouGov Covid Tracker, ASH also found that among those who were still smoking, 27% said they were smoking more, compared with 20% smoking less than before.
"Those who have tried to quit during the pandemic have been more likely to succeed"
"It's a mixed picture," says ASH policy director Hazel Cheeseman. "For many smokers the pandemic prompted a positive change and those who tried to quit have been more likely to succeed. But for others it appears the additional stress and boredom of the last year is leading to higher levels of smoking and a return to smoking for some who had quit."
A British American Tobacco spokeswoman also points to panic-buying at the start of the crisis and the shift to bigger but less frequent shopping trips as likely causes of the initial increase in tobacco sales.
"Working from home has increased the number of moments throughout the day that people can smoke, which combined with 'pantry-loading' at the start of lockdown [helps explain] the growth in sales," she says.
Pandemic effect
Perhaps more important, she adds, has been the travel ban, with its impact not only on duty-free sales but duty-not-paid tobacco. "It has been much tougher for illegal tobacco products to be smuggled into the country over the last 12 months, so people who traditionally purchased from illegal, untaxed channels will have had to buy from legitimate retailers like convenience stores."
The impact of the pandemic in disrupting the illicit trade does seem to have been the biggest contributing factor to the overall rise in tobacco sales during 2020.
But again it's hard to quantify as, while the government does publish figures on how much revenue it loses each year to the illicit trade, there is a lag on these figures, which means we won't be able to see to what extent the illicit trade shrunk last year until 2022. However, all the major UK tobacco manufacturers have cited the reduction in the flow of illicit tobacco across borders as a key reason for improved financial performance in recent months.
"Working from home has increased the number of moments that people can smoke"
"If the legal market increases, it might indicate there was a decrease in the illicit trade, especially with the travel and movement restrictions in place across much of the UK throughout 2020," says JTI UK fiscal and regulatory affairs manager Ian Howell.
"That's not to say the illicit trade has gone away. Research conducted for JTI last year found that, despite lockdown and travel restrictions, 32% of smokers were still able to purchase tobacco that was not subject to UK taxes. Therefore, it remains a serious problem and takes revenue away from legitimate retailers, facilitates the supply of tobacco to underage people, and supports organised criminal networks."
Among other nuances in the market Imperial Tobacco UK corporate affairs director Duncan Cunningham notes a particularly interesting impact on its Golden Virginia Original rolling tobacco brand. A strong performer in travel retail, with more sales switching to traditional grocery channels, he says sales of the brand were 50% higher in July than they had been prior to the pandemic in February. Overall, RYO sales are up 36%.
The other key change has been the mix between value and premium. For years the tobacco category has been characterised by downtrading. The continually soaring prices married to tough economic conditions in the UK have seen smokers switch down to more value-for-money offerings and RYO tobacco, with even this sector seeing the biggest growth for economy brands.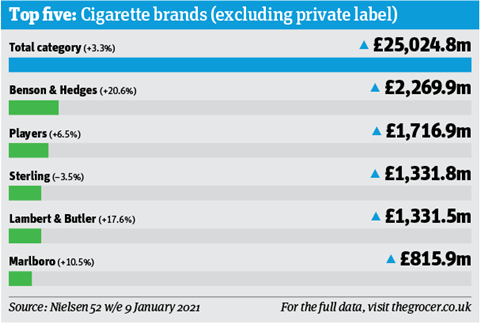 Premium boost
While this largely remains the case, the long-term decline in the premium segment has been halted, and was stable in 2020, says a JTI spokeswoman.
"Due to the regrettable prevalence of premium cigarettes in illegal, duty-not-paid channels, and the impact lockdown has had on border closures and the restriction of criminal supply chains, we are seeing those who usually smoke illegal premium brands return to the legal market and buy legitimate premium products."
The positive takeaway for UK retailers is that with international travel likely to be significantly restricted for the year ahead, they look set to continue to benefit from a greater share of smokers' spend – and this should insulate them even if the number of those quitting continues to rise.
Still, Cheeseman at ASH hopes retailer economics as well as health will help drive the market further towards e-cigarettes: "Retailers can play a positive role for their customers through keeping alternatives to smoking prominently available and encouraging them to give these products a go. Cigarettes, with their low margins, are a poor deal for both retailers and their customers."
Sales of traditional tobacco may or may not have gone up. But one thing is clear: the real growth is in vaping, e-cigarettes and heated tobacco. The sales numbers aren't as big yet, the share is small, but the sales are legitimate, and the growth exponential.
Why cigar sales have seen a boost in lockdown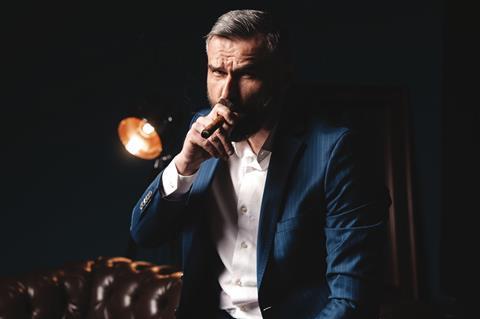 Thinking about the categories or businesses likely to benefit from the huge changes in the way we live today compared with a year ago, the obvious ones that spring to mind are online retail and video conferencing. You would be forgiven for not immediately thinking about cigars.
Cigars are often associated with times of celebration, but there has been little to cheer in most people's lives since last March. Therefore it comes as some surprise to learn that lockdown has created the environment for a growth in the medium and large cigar market. But that is what has happened over the past couple of months, according to Alastair Williams, country director at Scandinavian Tobacco Group UK.
"Trends in the cigar category don't tend to change very much and throughout the pandemic tobacco sales have remained pretty resilient," he says. "However there is one fairly recent trend worth highlighting which is the medium/large segment enjoying something of a renaissance at the moment.
"That sector is growing by over 11.6% in volume and nearly 16% in value versus the same time last year. This is being led by our Henri Wintermans Half Corona brand, which is responsible for nearly three-quarters of all sales in this segment.
"This may potentially be down to people being at home more with increased time on their hands to enjoy a larger format cigar."
The other interesting development in the cigar category this year relates to the ban on menthol and flavoured tobacco products, which came into force in May. The ban did not apply to cigars and major manufacturers were quick to try and capitalise. As such, there were debuts for a new kind of cigarillo with a flavour-changing filter. Key examples were STG UK's Signature Dual and JTI's Sterling Dual.
"The popularity of cigarillos continues to grow," says JTI UK sales VP Ross Hennessy.
The supplier launched the king-size leaf wrapped cigarillos last year in 10-packs just ahead of the menthol ban. They have a capsule filter that, when crushed, releases a peppermint flavour.
JTI is also in the process of launching a new 20s format this month, available through selected wholesalers, to be rolled out across all channels in the coming weeks.