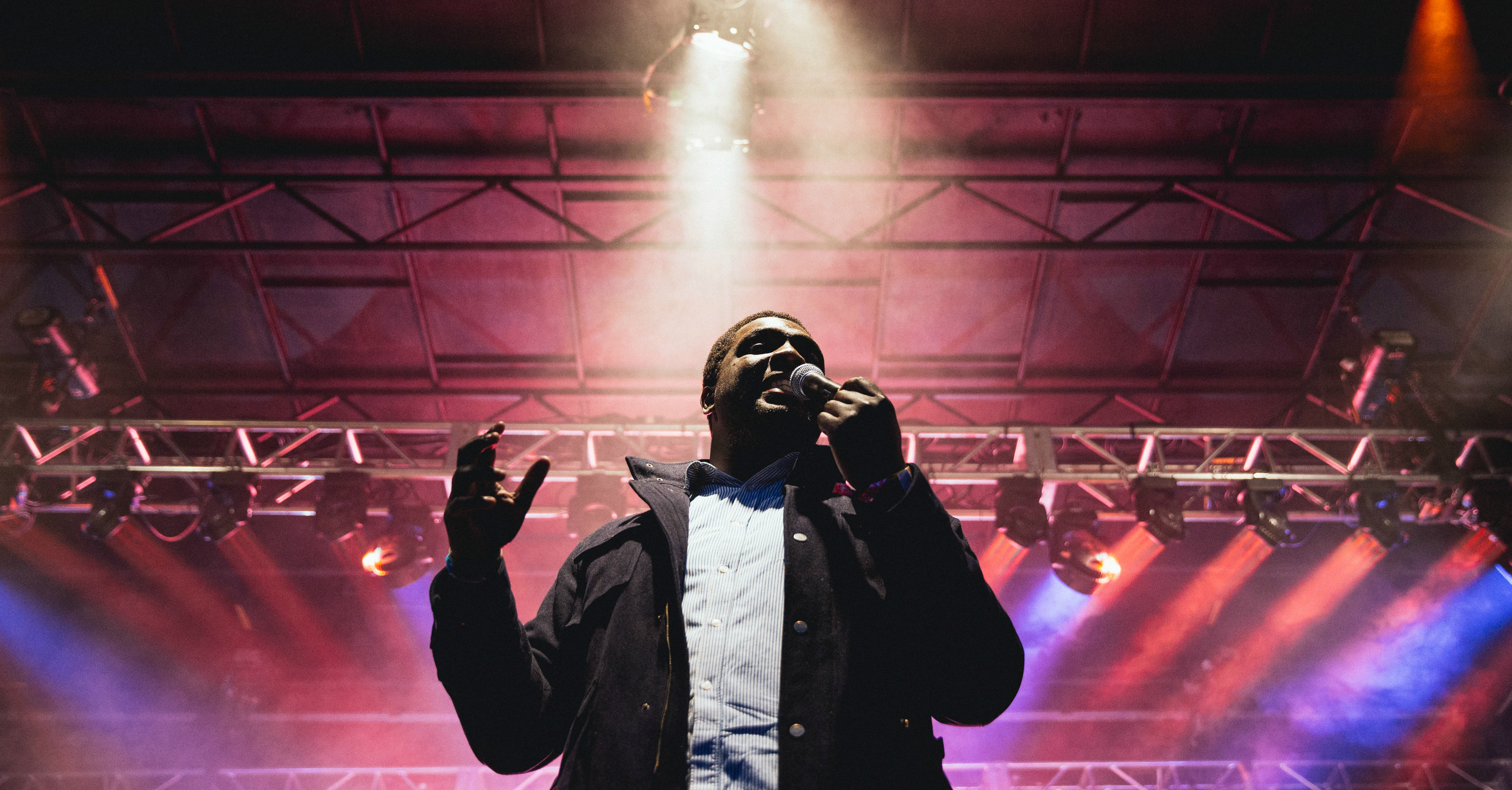 Photo: Flickr/Treefort Music Fest  

Any night in New York brings dozens of chances for laughter. From basement comedy clubs to classic established venues, national comedians and sketch comedy groups are everywhere. City Guide lists Manhattan icons like Carolines, Gotham Comedy Club, and Comedy Cellar, alongside Jerry Seinfeld's frequent Beacon Theatre performances and up and coming comedy venues like Union Hall and The Creek and The Cave. We also list great improv spots like the PIT/Peoples Improv Theater and UCB/Upright Citizens Brigade.
Brown Sugar' a Sunday Brunch Comedy Show – Shrine
February 23, 2020 – New York
Chocolate Sundays is a new comedy show at The Shrine, bringing out talented comedians from all over, some of which you may have seen on Comedy Central, ComicView, B.E.T, MTV, Vh1, Conan, and Late Night with Jimmy Fallon. Come grab a mimosa, eat a delicious meal, and enjoy the show!
Diversity is Fun! Comedy, Music and Human Rights – Playroom Theater
February 23, 2020 – New York
To laugh together is to grow together. Additionally, we feed our own souls as activists when we take an evening and just enjoy ourselves.About this EventDiversity is Fun is premised on the fact that sometimes, an evening of mirth and shared enjoyment is just what the spirit-doc ordered! We'll gather in Times Square, kick back and and enjoy the music and comedy of a diverse group of artists/activists, recharging together and preparing to rejoin the battle of Light v. Dark… Featuring:Dee Who: Dee Who is a songwriter, singer and bassist who presents original songs, usually in public spaces like the Subway. Dee is a familiar face around town, having made a living as a roving subway musician for the last five years. Dee was born in New York, grew up in Taiwan, studied drums at Berklee, played in a rock band in Holland, traveled through Ecuador on horseback, worked as a photographer for the NY Times, and directed, shot and edited two feature documentary films. He currently lives in Brooklyn where he raises his seven year old daughter and two cats. Find him at "TheDeeWho" on Instagram, Facebook, YouTube, Cashapp and Venmo.Alex White III: Alex is a stand-up comedian originally fr… (read more)
Phoebe Robinson and Friends – Union Hall
February 23, 2020 – Brooklyn
Ages 21+Phoebe RobinsonPhoebe Robinson is a multi-talented stand-up comedian, New York Times best-selling writer, and actress. She is best known as the co-creator and co-star of the hit podcast turned TV show 2 Dope Queens, which aired eight hour-long specials on HBO in February 2018 & 2019. Robinson recently inked an overall deal with ABC Studios to launch a production company, Tiny Reparations. Her first project under Tiny Reparations is hosting and executive producing a 10-episode interview-based series launching on Comedy Central in 2020. On her second WNYC Studios podcast, the critically-acclaimed talk show Sooo Many White Guys, Phoebe interviews today's biggest stars and ground breakers such as Tom Hanks, Issa Rae, Abbi Jacobson, and many more.
Amy Marcs' Breast Cancer Celebrity Comedy Reading: NICE T!TS – The Triad
February 24, 2020 – New York
WHO: Amy Marcs and cast of the Tony Award winning HADESTOWN including Yvette Gonzalez-Nacer, Kimberly Marable, Jessie Shelton, Kim Steele, along with directors Coco Cohn and Peter Michael Marino WHAT: Amy Marcs' hit solo comedy show about breast cancer, NICE T!TS, returns as a special benefit event featuring the cast of HADESTOWN WHERE: The Triad, 158 West 72nd Street New York, NY 10023 WHEN: February 24 at 7:00pm with additional upcoming performances March 30 & April 20 WHY: Amy Marcs is a breast cancer survivor who needed to tell her story of "hope, love, and the resiliency of the human spirit, as well as our capacity to triumph over adversity even in the most traumatic of situations." A portion of the proceeds will go to support The Actors Funds Phyllis Newman Womens Health Initiative, a program that addresses the myriad of concerns women face when dealing with a serious medical condition and provides a safe space to go to for confidential and compassionate help.
The Pop Culturist's Guide to Grief – The Tank
Through February 24, 2020 – New York
Comedian Bailey Swilley tells the story of how pop culture got her through the darkest time of her life in this show that mixes standup, storytelling, music, and heartache. Come for the vulnerability, stay for the weird facts about John Mayer.
Stories, by Humans presented by Loop & Tie – Crosby Street Hotel
February 25, 2020 – New York
Come uncover Stories by Humans, and see what's below the surface.About this EventStories, by Humans, is a night of storytelling by seven individuals each sharing a different life moment. Stories, by Humans, has one goal: create an avenue for storytelling as shared human experience by people across backgrounds, careers, and all manner of differences. Everyone has a defining moment, most people have several, and those stories go unheard too often.In an era where human connection is becoming more and more imperative to change the world, we need the opportunity to understand each other. With Stories, by Humans, we provide another opportunity to do just that.Join us as we hear from the following individuals as they share their own life defining moments:Steve Dean, Online Dating Consultant & Speaker, Dating Coach, Relationship Writer, Community BuilderLeiti Hsu, Show Host / Speaker, Food / Travel Expert, Company-Builder, Advisor / Cofounder, Journy, Contributor, ForbesIfeoma Ike, Co-Founding Partner of Think Rubix, LLC; co-founder of Black and Brown People Vote, Black Policy Lab and The PC WaySara Rodell, Founder/CEO of Loop & TieBenish Shah, CGO of Loop &… (read more)
Stevie – Union Hall
February 25, 2020 – Brooklyn
Ages 21+Drew AndersonMarcia BelskySam TaggartDrew Anderson, Sam Taggart and Marcia Belsky are moving their infamous stand up show STEVIE from Bushwick to Union Hall! Join them as they showcase some of their favorite comedians and performers each month. Come or be hexed.
Adulting With Michelle Buteau and Jordan Carlos – The Bell House
February 25, 2020 – Brooklyn
Ages 21+Michelle & Jordan welcome guests to break down the what, the how, the where and the why #ADULTING is the puberty you opt into.
Pig – The Slipper Room
February 25, 2020 – New York
Ages 21+Stand-up comedy from the very best of New York's emerging comics.Sandy Honig and Peter Smith host a weekly line up of stand-up comedy talent. You will see up-and-comers, late night talk show veterans and… who knows? Maybe a surprise drop in will test out some new material! Come one, come all.
Sweet Dates – Chelsea Music Hall
February 25, 2020 – New York
Tonight Show's SETH HERZOG continues the monthly residency of his beloved comedy show "Sweet." This month's edition, "Sweet Dating," is one of the most long-awaited. Each performer does a short set and then picks an audience member to go on a 7 minute with on stage. It's always fun and full of spontaneous silliness. Joining Seth this month will be: JERRY O'CONNELL, BEN SINCLAIR, JESSICA KIRSON, CHRIS DISTEFANO, ADAM WADE, DAVE HILL, DANIJELA STAJNFELD. It will be an unforgettable night.
Mario Tuesdays! Mario Kart w/ Drinking Rules! – Mekelburg's
February 25, 2020 – Brooklyn
One part nerd, one part slurred, Super Trashed Bros brings together comedy, video games and alcohol at a Mekelburg's beautiful location in Williamsburg. Join comedians Jesse McGrath, Seamus Calder, and Brandon Garner as they virtually battle amongst themselves and the audience while physically battling inebriation. Audience participation is essential as a live crowd and online viewersfrom the streaming platform Twitchsuggest new rules and new gags. Power-up, throw down and push buttons (in more ways than one)!This show is a tournament. Drinking jaRules apply! Also, if you're not good at video games, you can still win an #Amiibo (the GoodsportsMiibo) for people who cheer the loudest, jeer the funniest, support others, and have the best time. There is also a raffle at the end of the night for all of those who competed! We're so generous.TOURNEY FORMAT: Play as early and as often as you would like, and accumulate points based on how well you do in each race. At the end of the night, points will be totaled to decide our winners. We will start with 30 minutes of free play to get warmed up!1st place: 30$ Gift card2nd Place: Babka of your choosingRaffle (for those wh… (read more)
Very Good Comedy Show – Silvana
February 25, 2020 – New York
Very Good Comedy Show is a comedy show that is… very good! Featuring the best standups in NYC, you're sure to see a blend of seasoned pros and exciting up-and-comers. Past performers include TJ Miller, Judah Freidlander, Alonzo Bodden and Louie CK. More info available at www.verygoodcomedyshow.com *This Harlem pop-up rendition will be in cooperation with StarrStruck Entertainment and Very Good CBD, who will have merchandise available for sale*
Rafi Bastos – Carolines on Broadway
February 26, 2020 – New York
With a career spanning over 15 years, and a grasp at raunchy humor that sells out theaters everywhere he goes, Rafinha Bastos is one of the most important and well-respected comedians in Brazil. Also an actor and journalist, he is amongst the 30 most-watched comedians in the world on YouTube, with videos that have more than 250 million views. With over 11 million followers on Twitter, the New York Times has deemed him one of the most influential people in the world.
Thrift Shop Comedy – Bowery Electric
February 26, 2020 – New York City
FREE weekly stand up showcase with hosts Randall Otis (Daily Show writer), Yedoye Travis (Comedy Central) & Sam Morrison (Stand Up NBC) featuring NYC's hottest up and coming comedians next to big names from Netflix, HBO, Comedy Central and more!It is completely 100% free with house party vibes. Trust us, you wont regret it.
Shitty Mozart With Aaron Nemo – Union Hall
February 26, 2020 – Brooklyn
Ages 21+Shitty Mozart with Aaron NemoAaron Nemo hosts a comedy/variety show featuring a cast of cartoon characters, all of whom are animated live with a piano.
Modern Whitney – Caveat
February 26, 2020 – New York
Did you often find yourself looking at a piece of art and wondering why that stuffy professor in your art history 101 class called it art? Modern Whitney answers this question with a panel of comedians who live on stage will try and breakdown and give meaning to what certain artwork stands for. They'll then be schooled by an actual art expert who will reveal what the art truly stands for and it's cultural impact. The audience will also have the opportunity to draw and have their artwork decipherd live on stage.
UG! COMEDY SHOW!! @ Drexler's: Tuesday Feb. 25th 2020 ed. – Drexler's
Through February 26, 2020 – NYC
UG! COMEDY SHOW!! NOW @ Drexlers: Tuesday Feb. 25th, 2020 ed.Todd Montesi & Richard James present awesome comics in front of a cool supportive crowd in the epicenter of hip, NEW YORK CITY. Featuring both established comic veterans you've seen on TV to the up and comers, UG! guarantees a swell time all for FREE! We've also got tons of drink specials! So what are you waiting for? Come down and UG! it with us!!!UG! COMEDY SHOW!! @ DrexlersPresented by Todd Montesi & Richard James9 Ave A (btwn E. 1st & 2nd st.)Showtime: 8:30PM No Cover, 1 Drink Min.For info/reservations: (646) 524-5226Via Subway: F train to 2nd AvenueThis Weeks Guests: (Tuesday Feb. 25th, 2020 ed.):The Return Of Josh Homer!Il Maestro Massimo Cannistraro! Uncut Gem Courtney Mclean!Wonder Wall Tommy Amado!Infinite Jest Gregory Hall!The International Serine A. Prive!Kid Buckets Asif Khan! & Clevelands Finest Jason Reynard!w/ Special Guest Host G-Man Brandon Trusso! Featuring The One True King of UG! Todd Montesi!& The Big Bawse Hawse Christopher Wagner!! DJd By Prodigal UG! The Son Richard James!! COME & #UGIT
Npr's Ask Me Another – The Bell House
February 27, 2020 – Brooklyn
Ages 21+Ask Me Another is the rambunctious live show from NPR and WNYC that mixes trivia games with comedy and music to make an hour of mind-boggling fun. Host Ophira Eisenberg invites guests, celebrities, and listeners alike to take on challenges and to be serenaded by house musician Jonathan Coulton, with one contestant crowned the episode's Ask Me Another champion.
The Chris and Paul Show – Gotham Comedy Club
February 27, 2020 – New York
NBC Bring the Funny Finalists The Chris and Paul Show will perform at Gotham Comedy Club on Thursday, February 27th at 7:30pm. The comedy duo is most famous for their uncanny ability to take seemingly predictable situations and attack audiences with such twists that people are left in shock after their signature surprise endings. Now International Comedy Winners, The Chris and Paul Show have won such accolades as Best Newcomer Nominee Edinburgh Fringe Festival, Best Actor in a Comedy (Chris & Paul tied) – New York Television Festival, Best Sketch Comedy Duo – the INNY Awards, Best Newcomer – the Montreal Comedy Festival, Best Sketch Group – the New Jacks Comedy Competition, Best Sketch Group – Jackpot Sketch Festival, & Best Comedy Troupe – Chicago Snubfest Festival. Tickets start at $22 and are available now by visiting https://gothamcomedyclub.com/event.cfm?id=538530 or calling (212) 367-9000.
Rock'n'Roll Aerial Burlesque – The Slipper Room
February 27, 2020 – New York
Ages 21+A wild and scandalous rock'n'roll experience, featuring the hottest aerialists, circus, and burlesque performers in NYC.Join us for Rock'n'Roll Aerial Burlesque and become a part of the show with our live guitarist onstage, our hilarious and stellar hosts singing live to a bevy of classic rock'n'roll songs, and experience the hottest aerial, circus, and burlesque performers anywhere.
Burnt out Wife – Dixon Place
February 27, 2020 – New York
Created & performed by Sara JuliDramaturgy by Michelle MolaLighting design by David FerriSet design by Pamela MoultonCostumes by Carol FarrellSound design by Ryan MacDonaldWith her comically idiosyncratic text-driven dance style, Juli takes on monogamy, intimacy, loneliness, sex deprivation, and other impossibilities of marriage. In a pepto-bismol pink bathroom, this dance-theater-comedy tackles the taboo and urgent social topic of the detritus of committed partnerships, sparking intimate conversations while blowing up the marital institution with humor, controversy, and explicit personal musing and disclosure. For mature audiences only.
RISK! Live – Caveat
February 27, 2020 – New York
RISK! is a live show and podcast where people tell true stories they never thought theyd dare to share in public, hosted by Kevin Allison of the legendary TV sketch comedy troupe, The State. The award-winning live show happens monthly in New York and Los Angeles and has featured people like Janeane Garofalo, Trevor Noah, Ilana Glazer, Samantha Bee,Margaret Cho, Marc Maron, Sarah Silverman, Lili Taylor, Dan Savage and more, dropping the act and showing a side of themselves weve never seen before. The weekly RISK! podcast gets 1.5 million downloads each month.Slate.comcalled it jaw-dropping, hysterically funny, and just plain touching.
Why Your Train is F*cked – Caveat
February 27, 2020 – New York
21+ ABOUT THE SHOW:Get on board for a deep dive into the history of the MTA. Whether you love it, hate it, or want to compose more informed rage-tweets about it during your next 20 minute delay we've got you covered. Your hosts Meg Pierson (TEDx, Alchemy Comedy) and Justin Williams (City College, SirusXM), along with a mysterious anonymous ghostwriter, will conduct our show through the twists and turns of history; revealing unbelievable stories, subway life-hacks, and truly upsetting details about our subway system.
Valentine: Love It or Leave It – NoHo Sound
February 27, 2020 – New York
Sean Altman & Jack Skuller: The Everly Brothers' sweet, sultry harmonies come back to life!Carolyn Castiglia: Comedy Central, MTV, VH1, HLN, WE tv, fyi, LifetimeJiji Lee: Kennedy Center; published in New Yorker, NY Times, Wash PostKambri Crews: Runs QED variety show in Queens; NYT best-selling memoir Susan Seliger: Host, Journalist (NY Times, New York Mag. Wash. Post) Chief Mischief-makerTHE DEAL: * Save $5 OnlineDoors 7:30pm | Showtime 8:00pm | WHEN: Thurs. 2.27.2020WHERE: New Location: Noho Sound at 75 Murray St. Former 75 Club, in landmark Bogardus Mansion
Super Spectacular Comedy Show to Save the Planet! – Muchmore's
February 27, 2020 – Brooklyn
Grassroots Comedy and U Streat Productions have teamed up to produce a stellar comedy show to raise money and awareness for the Sierra Club of New York City.The show will feature standup comedy from the best comedians in the world, from the likes of Comedy Central, HBO, Conan, etc. We will also have a live podcast to hear from the Sierra Clubs NYC Groupleaders, info on how you can get involved to be part of the solution, and Q&A at the end of the show, so you can find some answers to your environmental questions!This is going to be the best comedy show in the city. Come laugh with us, help a great a cause, and maybe even learn a thing or two.
Living Room Comedy Show – Postmark Cafe
February 28, 2020 – Brooklyn
The longest running stand-up comedy show in Brooklyn presented by Aaron Kominos-Smith and Turner Sparks (now in its 13th year)!Every Friday night at 8pm come to this clean, all-ages show to see some of TV's funniest comedians and hear jokes they're working on for their next TV appearance on Comedy Central, Fallon, Conan, The Tonight Show, and more! Come as a couple or come alone. Bring a group friends or bring your family. No restrictions on audience, we ask comics to keep their acts clean and EVERYONE gets in FREE! The show is at The Postmark Cafe: 326 6th St in Brooklyn.While tickets are free, reservations regularly sell out. Get your reserved seats at www.LivingRoomShowNY.comFollow @LivingRoomShow on Twitter/Facebook and email [email protected] to get our monthly lineups direct to your inbox.facebook.com/livingroomshow
The Foundation – Upright Citizens Brigade Theatre – Hell's Kitchen
February 28, 2020 – New York
One of UCBs longest running Maude teams takes its bold and provocative brand of sketch comedy to a new Friday show. The Foundation is unique not only for the diversity of its members, but also for its direct takes on current issues of race, culture and politics. From a group of white office workers throwing an "MLK Day Party" for their black colleague to a Boeing focus group featuring the sole survivor of a 737 Max 8 plane crash, The Foundation consistently goes there and makes you laugh hard along the way.
Jen Brister: Under Privilege – Union Hall
February 28, 2020 – Brooklyn
Ages 21+Jen Brister: Under PrivilegeBrister has it all:a wife, kids, a house and a job she loves (sometimes) so what the hell is she moaning about? Join Jen as she takes an irreverent look at the often controversial subject of 'privilege'. Who has it? Who doesn't? And why does no one like to admit they have any?'
Walt – Union Hall
February 28, 2020 – Brooklyn
Ages 21+Tracy SorenAngela PalladinoJulian Edward WilliamsZach ZimmermanRachel PegramGwynn BallardMichael Cruz KayneWALT is your new favorite comedy show named after a character from an early 2000s television show. Every month WALT hosts a stacked line up of comics with fresh sets that will leave you screaming: WAAAALT
Laugh & Other Drugs – Babeville
February 28, 2020 – Buffalo
Laugh & Other Drugs: an indie comedy show that takes place every other month in the 9th Ward at Babeville, hosted by Kevin Thomas, Jr.
Martin Urbano: Registered Stand up Comedian – Union Hall
February 29, 2020 – Brooklyn
Ages 21+Martin UrbanoJo FirestoneChanel AliKelsey CaineMartin Urbano: Registered Stand-Up ComedianHip Latino comedian Martin Urbano (Jimmy Kimmel Live, Comedy Central, registered sex offender, The CW) performs his solo show, and covers everything from dating in NYC to hilarious Yelp reviews to his crazy Mexican family! (WARNING: This show includes a big long chunk about pedophiles.)
Drunk Black History – Caveat
February 29, 2020 – New York
21+Comedians Brandon Collins and Gordon Baker-Bone host this interactive show where prominent Black historical figures will finally get their due through drunken anecdotes from booked guests!
Ken Krantz, Mike Sicoli, Dan McRitchie, Bill Cannon – Laugh it up! Comedy Club
February 29, 2020 – New York
Ken Krantz is a funny dude. Growing up the youngest of eight kids he had to be in order to get any attention. He started doing stand up in 2009 and quickly became a fixture on the Tri-State comedy scene. His laid back style combines self-deprecating humor, storytelling, and his take on pop culture and current events.
Martin Urbano: Registered Stand up Comedian – Union Hall
February 29, 2020 – Brooklyn
Ages 21+Martin UrbanoJo FirestoneChanel AliKelsey CaineMartin Urbano: Registered Stand-Up ComedianHip Latino comedian Martin Urbano (Jimmy Kimmel Live, Comedy Central, registered sex offender, The CW) performs his solo show, and covers everything from dating in NYC to hilarious Yelp reviews to his crazy Mexican family! (WARNING: This show includes a big long chunk about pedophiles.)
Sugar Sammy Headlines Caroline's on Broadway! – Caroline's on Broadway
Through February 29, 2020 – New York
After an incredible year, marked by a series of prestigious events, Canadian comedy superstar Sugar Sammy brings his razor-sharp wit to the Carolines on Broadway in New York, NY February 27th 29th. Sammy is a master at interacting with his audiences delivering hilarious scenarios and comments on our global societys inherent contradictions in a brilliantly entertaining way, sharing his views of his Indian roots and world travels. Ultimately, his comedy has changed the landscape of our cultural reality by confronting language and social issues and exploring the great cultural divide. He can hit on cultural, social and political themes with such charm and finesse that it allows him to push the envelope a little farther than most. As one of the hottest comedians on the international circuit, Sugar Sammy has performed over 1,700 shows in 32 countries, in English, French, Hindi, and Punjabi. His career rocketed in his home city of Montreal, Quebec when he debuted his extremely successful bilingual show Youre Gonna Rire which he performed in English and French. The unprecedented success of this groundbreaking show made him a cultural phenomenon. A total of 421 sold-out performa… (read more)
Gina Brillon Headlines Gotham Comedy Club – Gotham Comedy Club
Through February 29, 2020 – New York
Gina Brillon was born and raised in the Bronx, New York. The Puerto Rican actress, comedian and writer, has been a stand-up comic since she was 17 years old. Her first one hour special, Pacifically Speaking, was produced by Gabriel Iglesias and aired on Nuvo TV (2014). She had a featured role in Gabriel Iglesias theatrical film, The Fluffy Movie. Shes made appearances on Comedy Centrals Live at Gotham, E!s Chelsea Lately, AXS Gotham Comedy Live, The View, Late Night with Seth Meyers and Jimmy Kimmel Live. You have also seen her on Kevin Can Wait on CBS and The Conners on ABC. In 2012, she became the first (and only) Latina winner of NBCs Stand up for Diversity Showcase. She was selected to be part of Montreals Just For Laughs New Faces Showcase. Gina is also a singer, published writer and poet. Her pieces have appeared in the New York Post and Daily News, among others. In 2019, she was featured on Gabriel Iglesias Beyond the Fluffy Tour -hitting 46 cities around the US and gaining thousands of new fans along the way. Her newest half hour special for HBO Latino, titled Easily Offended is now streaming on all HBO Digital Platforms. Visit: https://ginabrilloncomedy.com/ Watc… (read more)
Slippery Sunday's Burlesque – The Slipper Room
March 01, 2020 – New York
Ages 21+Bastard Keith, Kelsey Strauch, Peter Peter, Tansy, Albert Cadabra, Qualms GaloreSlide on into this sexy, freewheeling romp and still be home in time to get your beauty sleep.Weekly show full of surprises. Featuring the best in Burlesque, Comedy, Magic, Sideshow and Circus arts performers. A real NYC Lower East Side experience.
Mike Robles: Living For Laughs – Carolines on Broadway
March 01, 2020 – New York
A Cancer Fundraiser for Mike Robles. Join Mike Robles & friends for an evening of Laffs, featuring an All-Star lineup of NY's funniest comedians.Gratuity is NOT included in the price of these packages. You can leave a gratuity for your server at the end of the show. Upon arrival at Caroline's, both Green and Gold ticket purchasers should proceed directly to the host podium at the bottom of the stairs. Due to the location of these priority seats, we can only hold them until showtime
The Violet Hour: A Late Night Show From Another Dimension – Caveat
March 01, 2020 – New York
The Violet Hour follows a familiar late night format — with a far-out twist.Guests (comedians, celebrities, authors and activists from earth) mingle with Winnifred (CAROLINE KINGSLEY) and her outlandish friends from space to discuss topics like quantum physics and how to save the dying planet – or at least enjoy the heck out of our last breaths on this little blue sphere.
Brown Sugar' a Sunday Brunch Comedy Show – Shrine
March 01, 2020 – New York
Chocolate Sundays is a new comedy show at The Shrine, bringing out talented comedians from all over, some of which you may have seen on Comedy Central, ComicView, B.E.T, MTV, Vh1, Conan, and Late Night with Jimmy Fallon. Come grab a mimosa, eat a delicious meal, and enjoy the show!
Magnetic Dragons – Under St. Marks Theater
Through March 07, 2020 – New York
Gunfire. Explosions. Heartbreak. These are the things that happened not in front of the camera, but behind the scenes of the film with the worst production day ever: Magnetic Dragons. This comedic one-man show revisits all the disasters that happened for the 25th anniversary of the movie. Official selection Frigid Festival 2020
Comedy Carnival – Lucky Jacks
Through March 10, 2020 – New York
Comedy Carnival is a carnival-themed comedy show with some of NYC's top up-and-coming stand up comics.Join us every Tuesday night at Lucky Jack's on the Lower East Side.Hosted by Maura Sateriale and Rebecca Kaplan.Visit our Facebook to see this week's lineup: https://www.facebook.com/comedycarnivalNYC/
Colorstruck – Theater for the New City
Through March 15, 2020 – New York
This solo show by Bay Area comic Donald E. Lacy, Jr. is a bittersweet examination of how cultural assumptions drive American society. Paul Berss (NY Theatre Wire) characterized the production as "a seamless ride from hate and injustice to funny and heartwarming, all artfully blended and delivered by a master entertainer who is at once an actor, a comedian, a thinker and an activist." The show is continually reshaped to keep up with current events. Lacy uses humor as an icebreaker to bring all races to the racial colloquy.
Denied from New York – Improv Asylum NYC
Through April 02, 2020 – New York
Rejection is a part of every comedians life, but Giancarlo Mariutto and Sean Reidy turn that rejection into rejectionade with Denied from New York a sketch show about trying to find success in all walks of life. Each show they assemble a hilarious cast that features some of NYCs best comedians and musical acts alongside celebrity guests.Cassidy Routh (Full Frontal with Samantha Bee)Jo Firestone (The Tonight Show, Hulu's Shrill)Michael Torpey (TruTV's Paid Off, Orange is the New Black)Every 1st Thursday at 9pm
Want free advice on what to see and do in NYC? Join our Facebook group Everything to Do NYC, a place for people to ask questions and get tips on how to make the most of the city.