The Customer Experience Economy is the most violent economy in the history of capitalism.
In ten years, Tesla has become more valued than its 114-year-old predecessor, Ford Motors. On the other hand, in less than five years, Nokia, BlackBerry, Kodak, and several other gigantic businesses shut down or saw their once coveted global operations being reduced to dust. 
Nobody is Safe in the Customer Experience Economy
Top executives at companies of all sizes are scared. Their huge buildings and walls adorned with framed MBAs and Ivy League degrees working for them are no longer a guarantee of safety and success. 
Killed by the Click, the Price of Commoditization
Today, large corporations have access to the same brains, same capital, same technology, and same everything. From brick and mortar to click and order, airline companies, banks, insurances, credit cards, hotels, retailers, and almost every industry on the planet is suffering from commoditization.
In the very recent past, technological innovation could buy 50+ years of survival and solid market leadership. However, today, even though innovation is still crucial, most innovations don't last more than the length of a TV show season once hundreds of competitors start offering the same thing for a better price. 
To make it even worse for companies, mobile technology and the internet have empowered consumers in a way that they are now more informed about market offers than the companies trying to sell to them. 
Changing their minds or switching providers is now as easy as clicking a button. The combination of commoditization and the empowered customer is taking the fight to acquire and retain customers down to the worst-case scenario: price wars.
Desperate Times Shouldn't Call for Desperate Measures
Like a prisoner on death row seeing his end approaching, the desperate reaction of most executives struggling to keep their jobs and businesses alive is to attempt to follow "best practices", which include digitizing everything. It's as if migrating from offline to online and mobile could save the day, or better, save next quarter's results. 
Most retailers in the US, for example, are now trying to be Amazon by adopting its best practices and every company is trying to be the Google, Uber, or Netflix of their own market by copying their strategies.
It's important to understand that along with customer behavior, companies' best practices are also changing so fast that when an executive adopts a strategy that worked for another company, it's no longer relevant and fails miserably.
Casualties of the CX Cross-fire
In the current customer experience economy, your direct competitors are no longer your only threat.
For every disruption one company creates in its industry, the consumers create new expectations about every other industry serving their lives.
When Amazon decided to deliver purchases in the same day, freight companies started paying the price of a new customer experience expectation. When Netflix started allowing you to select and watch your favorite movies wherever you were and whenever you wanted, airline companies started paying the price of having to deliver a similar movie experience. When banks gave you access to your full account on your mobile app, cell phone carriers and healthcare companies felt the pressure of having to do the same.
It's Not Your Competitor, It's YOU!
The other day I saw a Facebook post that read: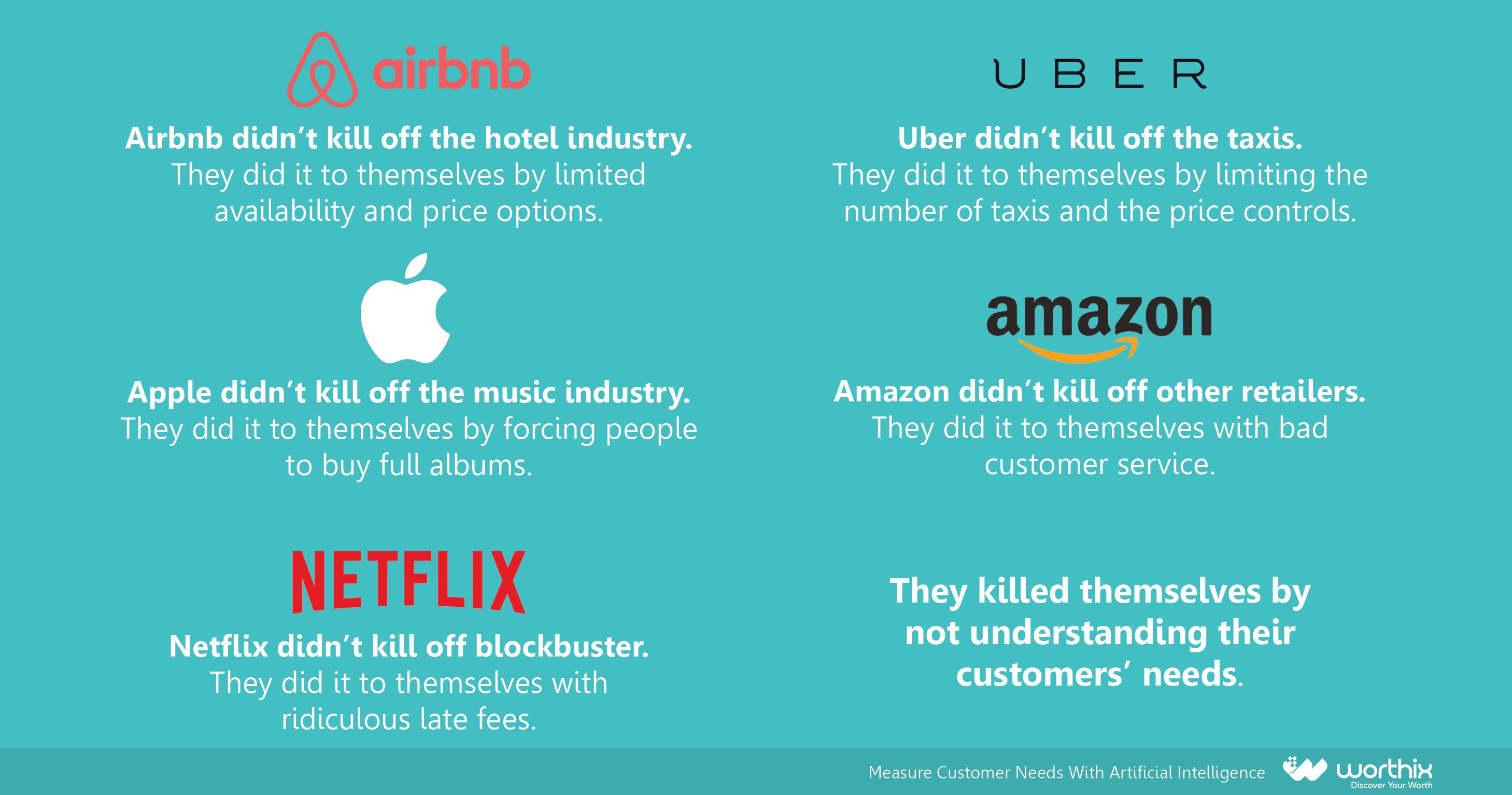 That's brilliant!
It's the violence of the customer experience economy proving that organizations must continuously strive to create experiences that their customers believe are "worth it". 
Companies are not being killed by their competitors, they're losing their customers to their own outdated value proposition. 
A CX Wake Up Call
If people inside organizations keep working for their products, remaining captive in silos, and aiming to please their bosses instead of working for their customers and best experiences, they will fail and it will be both fast and painful!  
Part 2: Your CX Weapons Are Under your Nose
Part 3: Becoming More Customer Centric: Breaking down the Barriers of Silos