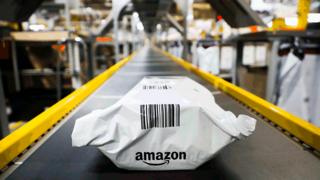 Amazon sales soared over the Christmas season, rising 21% from the previous year, in sharp contrast to weakness reported by other retailers.
The e-commerce juggernaut said it earned $87bn (£66bn) in sales in the last three months of 2019, well ahead of analyst expectations.
The news sent the firm's share price up more than 10% in after-hours trade.
If prices hold it would return Amazon's market valuation to above $1tn, joining Microsoft, Apple and Google.
Amazon's growth has come as traditional stores and malls suffer, with a decline in foot traffic blamed in part on online shopping.
US retailers such as Target and Macy's have reported sales in recent weeks that missed forecasts.
Home decor chain Pier 1 also announced it would close hundreds of locations, while homeware brand Bed Bath & Beyond warned investors that sales in last quarter fell almost 10%.
By contrast, Amazon said it earned $3.3bn in profit in its last quarter, up from $3bn a year ago. That was despite spending heavily on high speed delivery services for its Prime members.
Boss Jeff Bezos said the firm now had more than 150 million Prime accounts globally – up 50% from its last disclosure in 2018. Members get free delivery and access to Amazon's trove of video, among other perks.
The firm's cloud computing division, AWS – another major profit driver – also did well, increasing revenue by a third.
The strong performance came despite Amazon's operating expenses jumping more than 20% to $83bn.
"Given the scale of investments taking place analysts had expected profits to reverse, and the fact they've improved despite the extra spending is testament to the quality of the business Jeff Bezos has created," said Nicholas Hyett, equity analyst at Hargreaves Lansdown.
Amazon claimed more than 37% of the US e-commerce market last year, according to estimates by research firm eMarketer. It accounted for almost 10% globally.
But the company has not been unaffected by the broader shift to online shopping.
Quarterly sales at its physical stores, including its Whole Foods grocery shops, declined 1% compared to the previous year.