UC Riverside is joining a UC-systemwide initiative to promote drinking water instead of sodas and other sugar-sweetened beverages on campus.
UCR Healthy Campus signed on to the Healthy Beverage Initiative in October, creating a committee that is looking at strategies that will help students, staff, and faculty members make healthier drinking choices.
Those efforts include adding more hydration stations and spigots (water bottle refillers) to existing water fountains; creating signage and online mapping to locate them; and educational and marketing campaigns to encourage water instead of sugary drinks.
"The UCR Healthy Beverage Initiative, part of the larger UC Healthy Beverage Initiative, aims to improve access to tap water as a healthy alternative to sugar-sweetened beverages," said Julie Chobdee, co-lead for the initiative and Wellness Program coordinator.
"We are excited to work with campus partners to encourage healthier beverage choices through education, motivation, and access through the installation of hydration stations and water refillers throughout campus."
Installation of new water outlets could begin as soon as February, following recommendations from the campus on locations.
In 2015, UC San Francisco banned the sale of sodas, fruit juices and other sugary drinks on its campus. The campus saw significant health improvements in a study comparing employees before and 10 months after it began its program.
There are no plans to remove sugary drinks from UCR campus vending machines or stores.
UC launched the initiative as a system-wide program last year encouraging each campus to create its own program with the goal of promoting tap water as a healthy alternative. Each campus is getting $140,000 in funding from the systemwide Human Resources department.
The UCR Healthy Beverage Initiative plans to emphasize education and providing better access to water, Chobdee said. Over the last few months, the committee has mapped water stations, spigots and fountains on campus to see how widely they're used. 
All the hydration stations added in the past year offer filtered and chilled water and allow users to refill their bottles. The spigots are connected to water fountains that provide tap water.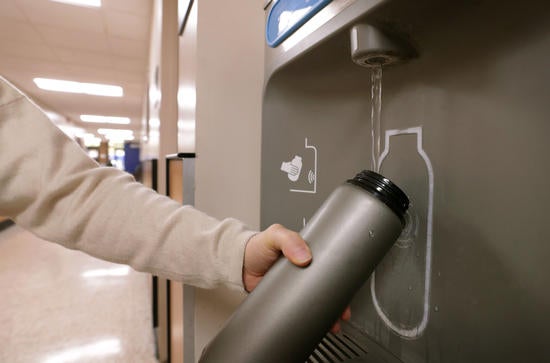 The campus has about 55 hydration station and 254 water fountains or spigots, according to the Facilities Department.
The committee also surveyed members of the campus on their attitudes and awareness about drinking water access and use – with 661 people responding. Additionally, about 35 students, faculty and staff members took part in focus groups, providing more detailed views on water availability.
The survey and focus group results indicate that the campus community vastly prefers hydration stations over fountains and spigots. Respondents cited convenience, concerns about cleanliness, or lack of a water bottle as main reasons why they don't use campus water outlets. The survey indicated a strong interest in more clean water stations – with 87 percent in favor.
Working with Facilities Services, the committee will use the data from the survey and focus group results to help determine where new water outlets are added, Chobdee said. 
Other efforts are also planned to encourage water drinking through better signage around outlets, social media and branding campaigns, and water-access maps. Dining Services has already created signs at its cafes letting customers know that they can get a 12-ounce cup of free water with their meals. 
Rich Yueh, a School of Business faculty member and co-lead for the initiative, said student organizations and volunteers have offered to help spread awareness about healthy and accessible hydration. 
"We're grateful for the support and will continue to serve the campus community in their pursuits of health and wellness," he said.
More information about the Healthy Beverage Initiative is available on its website.