Innovations in products, combined with labor-saving features, make insulation and housewrap strong contenders for distributors' inventories.
With more than 100 companies competing in the U.S. insulation and housewrap materials industry, there is a fierce ongoing battle to create thermal and water barrier products that will outperform the competition. And the landscape for this battle shows every sign of increasing.
According to the Freedonia Group, U.S. demand for insulation is forecast to enjoy healthy gains. Many states are adopting the more recent  International Energy Conservation Code (IECC) mandates, which call for nearly 30% more insulation in new housing construction than previous versions. Additionally, interest in increasing the energy efficiency of existing structures will help growth in these product segments. These statistics, along with continuing expansion of green building practices, should support growth in the U.S. insulation market through 2021.
In the midst of that growth is a changing face of the market. According to Home Insulation Research Labs' "2019 Annual Builder Practices Survey" of home builders, home buyers are beginning to favor smaller homes, and increasing labor and materials costs are forcing builders to find lower-cost alternatives.
While these factors appear to be pulling the market in different directions, in order to make the most of the predicted market growth the successful LBM dealer will need to stay one step ahead by becoming not just a peddler of product, but a purveyor of product knowledge as well.
The changing—and not so changing—face of the insulation and housewrap industry
When examining the insulation and housewrap markets, it's easy to be fooled into thinking that they are rather stagnant—or at least slow moving— when it comes to trends. After all, these products aren't like other segments of the building industry that are subject to the vagaries of aesthetic design. And to some extent that perception is correct.
For example, fiberglass remains the dominant player in the category, a fact that has not radically changed over the years. According to Home Insulation Research Labs' "2019 Annual Builder Practices Survey," fiberglass batts and blown fiberglass made up a combined 71% of insulation used in single-family homes in 2018, and that's a trend that will most likely continue for the next few years. In its report, "Insulation in the U.S. by Material, Market and Region, 12th Edition," the Freedonia Group predicts that fiberglass will continue to be the market leader due to the fact that construction professionals and DIYers continue to favor the mate- rial because of its affordability, decent performance, and ease of installation.
It would be unwise, however, to think that change never happens. Rising demand for sustainable residential building materials, technological enhancements in thermal insulation such as vacuum panels, research in transparent thermal products, and an increasing demand for products that deliver higher R-value and better moisture management drive product development and innovation while eating away at fiberglass insulation's market dominance.
The changing nature of the consumer/homeowner is also having an effect on product development. Com- pared to just a few years ago, home- owners are more aware of energy efficiency and moisture management, and as a result they are actively seeking out information on the materials that are going into their homes.
"It is not uncommon for a potential homeowner to call us up and ask specific (and detailed) questions about our BLOCK-IT building materials products, as well as the overall weatherization process, and what they should be looking for when they are purchasing a home," says Scott Tennison, director of innovation and launch management for Kimberly-Clark. "They want to know that the housewrap has the right technology for the exterior cladding the builder has chosen. They want to dis- cuss the science of weatherization in general. They are looking for peace of mind that the weatherization product is manufactured by a company that they trust and that they know will be around in the future if questions arise."
Regional codes drive innovation
Because building codes evolve over time—and sometimes those changes can be quite rapid—it can be a challenge to stay up-to-date in regards to insulation and building envelope requirements. Standards per state can (and do) vary, so it is vital for the successful LBM distributor to stay informed on the requirements of their specific area.
Take for example the state of California. Its Title 24 requirements ad- dress the energy efficiency of new (and altered) homes and commercial buildings. Since 1978, California residents have been required to meet these energy efficiency standards, and manufacturers are constantly working to keep pace with codes.
"Building codes continue to evolve, focusing on better efficiency and protection, and we are seeing that in initiatives such as Title 24," says Kimberly-Clark's Tennison. "We are not opposed to improving the building envelope, and we continue to look at technology to see how we can better perform as a weatherization product. At times, code changes can be viewed as more of a challenge and less like an opportunity, which I believe they are. We should all be working to provide the most efficient products to continue to improve on structural integrity."
In addition, manufacturers are developing products to meet codes that now deal with product lifespan as well as performance. "With building codes focusing on better performance," says Tamlyn's Joe Fong, "codes that factor on longevity and the environment are becoming more and more common."
Easy installation tops builders' lists
At the top of most builder's must-have list when it comes to insulation and housewrap—or for any building material these days—is ease of insulation. Because of skilled labor shortages, crews are working with fewer and few- er people. According to research organization McKinsey Global Institute, construction productivity has fallen by half since the 1960s. While fingers can be pointed at a variety of factors that has brought this about, there's little doubt that the shortage of skilled workers is one of the biggest industry threats; in fact, as of April 2019, the U.S. Labor Bureau estimates there are 434,000 vacant construction jobs. As a result, builders need every advantage they can get in terms of installation ease and speed.
"Ease of installation is critical," says Joe Fong, senior architect for Tamlyn. "Builders need to know that the product will actually perform as advertised, and workers need to have access to installation instructions when needed."
Kimberly-Clark's Tennison agrees, and he points out that it is the responsibility of the manufacturer to address these concerns. "Builders want the installation process to be simple and easy for their installers," he explains. "For example, some weatherization systems are so complicated that you have to make sure you have the exact number of fasteners spaced out exactly in the correct spot, and your OSB joints with a perfect gap, just so your weatherization system has a chance to provide some level of protection. We need to make sure the installation process is simple, easy, and the product is effective with- out them having to jump through dozens of hoops to install correctly."
Insulation and housewrap product knowledge is key for distributors
When pressed, most of us would admit that we don't like change very much. For contractors, change can be especially scary, particularly when it comes to switching to new products or changing technology—after all, their reputation is on the line, and a switch to a poor-performing product could be disastrous. Throw in potential litigation, and things can get ugly.
For the LBM distributor, success comes from being able to assuage those fears by providing sound product knowledge for both the builder and the homeowner. "Distributors need to provide clear and defined information about the product," says Tamlyn's Joe Fong. "Product information, installation videos, and customer testimonials are essential and build credibility."
In the case of housewrap, Kimberly- Clark's Tennison points out that it's the responsibility of the dealer to educate builders and homeowners alike on the necessity of the product. "Distributors really need to push the fact that keep- ing the wall structure dry is critical to the entire structural stability of that entire home," he explains. "Housewrap is an integral part of the protection and longevity of the structure. Without a quality non-woven housewrap behind the exterior cladding, the  structure is at risk for failure even when using a top of the line exterior cladding. The homeowner doesn't see the protection, but it is working every day to keep their home efficient and the builder's reputation strong."
David Delcoma, product marketing manager for MFM Building Products Corp., shares this example of how LBM dealers can differentiate themselves from the competition simply by  be-  ing the "go-to" information resource on housewrap, flashing tape and insulation. "We routinely see projects where housewrap and insulation are installed incorrectly," he says. "It is critical [for the LBM dealer] to note key installation tips to the contractors to eliminate potential problems for them down the road." For example, he explains, if a contractor installs house- wrap in such a way that it covers the header and sill sections of a window's rough opening, or if they flash over the bottom nailing fin after the window is installed, water damage can occur in the future because the housewrap will fail to keep water from infiltrating the structure. With the proper information from the distributor, he says, distributors can help their customers better understand the products they are buying and correctly use them.
So how does a dealer amass the needed product knowledge? By taking advantage of the many educational resources offered by the manufacturers. In the case of Kimberly-Clark, it offers AIA-accredited training pro- grams on both its product line as well as non-product specific training on structure weatherization. Tamlyn has a series of videos on its YouTube channel, "TamlynTV," as well as continuing education courses offered through Hanley Wood University and Architectural Record.
In the case of DuPont, it relies on trained specialists who can provide onsite hyper-focused product solutions. For example, its DuPont Tyvek Specialist Network can educate suppliers and builders on issues such as updates to building codes, keeping up with current trends and challenges, and provide on-site product guidance and training. In addition, dealers can reference the Dow Answer Center, an online database of product technical information.
Georgia-Pacific offers training and support programs as well as AIA- accredited CE courses and on-site training. And CertainTeed conducts hands-on training events at distribution centers across the country. These can be scheduled at  the  convenience of the location, and a fully-equipped trailer along with an expert trainer will come onsite and perform demonstrations for professional attendees.
It is through a partnership with manufacturers that LBM dealers will ultimately win. Success comes from not simply selling an array of well-per- forming products—although that is certainly part of the equation. By being a resource for product and installation knowledge, an LBM dealer ultimately becomes the top-of-mind supplier for its customers. And the more the dealer helps its customers build their reputation by providing performance-proven products and top-notch information, the more everybody—dealer, builder and homeowner—wins.
Sheathing systems on the rise
Sheathing tape systems—also referred to as integrated air and water barrier systems—continue to gain acceptance among builders and contractors, and the market for these types of products seems to be steadily growing. Like the insulation and housewrap product segments, sheathing and tape systems are impacted by factors such as the skilled labor shortage and a growing demand for better energy efficiency. But other factors are at play that are driving increased usage of these products.
According to the U.N.'s disaster-monitoring system, America sits alongside China and India in suffering the greatest number of natural disasters globally between 1995 and 2015. Because of this, more builders and homeowners are turning to sheathing and tape systems. "Tornadoes, hurricanes and tropical storms are driving a need to incorporate more structural performance into buildings and putting a great emphasis on quality sheathing and tape," says Jason Darling, general manager of Huber's ZIP System products. "In the past, codes and certifications focused on energy standards, and hadn't necessarily focused on enhancing structural performance. We now often answer questions on our technical hotline confirming that ZIP System sheathing comes as a Structural 1 rated product and is available in high-wind zone panels."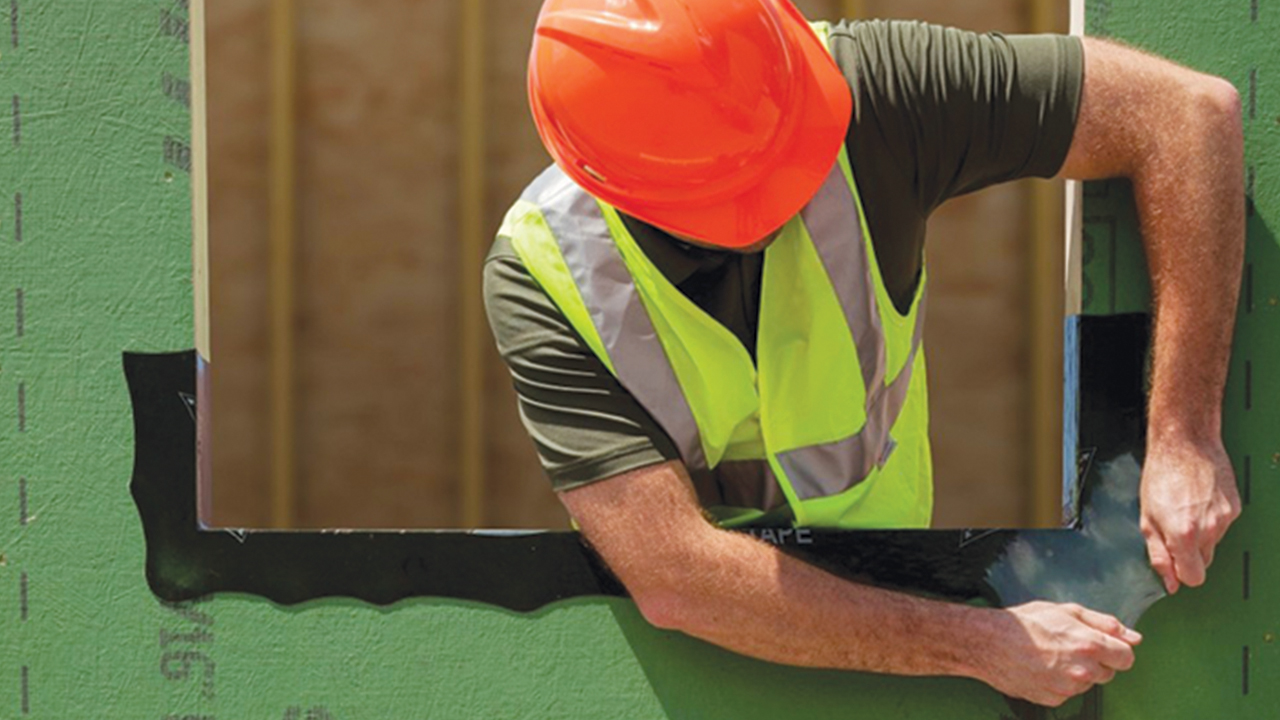 The growth of the housing market itself, along with decreased demand for large homes but an upswing in smaller, energy efficient "starter homes," is also driving sales growth of these products. "Housing starts and remodeling activity pickup are also driving the need for products like sheathing and tape systems," says Casey Smyth, marketing product manager for LP Building Solutions. "The overall increase in projects is driving a need for greater efficiency without sacrificing quality. An integrated tape and sheathing system can meet both goals."
ZIP System's Darling echoes Smyth's comments. "We saw multifamily build- ing grow for a number of years as millennials moved out on their own, but they are now buying their first homes. What's interesting is that this does not mean there is a need to cut costs of product systems. Builders still need high-quality performance and productivity to produce homes faster, and in the case of ZIP System sheathing and tape, we're seeing it used on these smaller homes to enhance productivity. Many builders see an integrated sheathing system as a part of their installation efficiency to maintain timelines."
Making the switch
Because of the aforementioned shortages in labor and the need to create installation efficiency while maintaining energy efficiency, builders are more and more turning to sheathing and tape systems, and LBM dealers need to be ready to provide these products.
"Builders are looking for a quality product they can put on their homes and have high confidence that it's going to perform as advertised," says Jeff Key, senior marketing manager for Georgia-Pacific Building Products. "If they're using housewrap and looking to switch to an integrated system, they have to make sure the benefits outweigh any cost differences. Many times, the material cost of an integrated system is the same or a little bit more than housewrap, but once you calculate the time and labor difference there can be huge savings."
ZIP System's Darling agrees. "Builders are looking for a sheathing and tape system that is readily available, affordable and has a track record of proven performance," he says. "Additional value propositions like curb appeal or meeting energy codes can also come into play but at the foundational level, builders want a system that is easy to use and one they know will work."
Unfortunately, builders are often reluctant to change materials or practices. "Builders are notoriously late adopters to new products and technologies," says Georgia-Pacific's Jeff Key. "We build homes much the same way we did 50 years ago because it has worked. A builder puts their reputation on the line when they change a product or a process, so they want to be very sure any change they make in product or process is going to be to the benefit of their customer."
LP Building Solutions' Smyth agrees that builders can be reluctant to change, and points out that product simplicity is key. "We work in an industry where many people find a product or way to do something and then stick  with it," he says. "It's inherently challenging to convince someone who has been doing something a certain way for years to switch to a new way of doing things. To help make the decision to convert, one of the most compelling reasons must hinge on simplicity. It has to be an easy switch that equates to an easier on-the-job application."
Overcoming fears
So how does an LBM dealer make a product switch easier for their customers? By staying up-to-date on product information and by being a resource for product knowledge, they can not only make a product change easy but more importantly, profitable for their customers. "Staying educated on all these new technologies is imperative," says Georgia-Pacific's Jeff Key. "The rate of innovation and change in construction is higher than ever, and consumers are more educated than they've ever been. Making sure they are on top of the latest and greatest products and processes can help the LBM dealer stay ahead."
The good news is dealers aren't alone. Most manufacturers provide training, technical support and product knowledge tools, and by partnering with manufacturers, dealers can be- come the go-to, top-of-mind resource that their customers will turn to, time and again. "At LP, we take pride in our approach to helping solve problems, and this is something our customers value in us," explains LP's Smyth. "Dealers can take that same approach and build their relationships further. Relative to sheathing and tape systems, develop a strong understanding of the top value propositions and differentiators within the WRB category so you can clearly communicate this to builders when they are seeking solutions in this area."
It is through this strong partnership with the manufacturer that LBM dealers can ultimately win. "At Huber, our representatives are there to assist dealers in driving awareness through education," says Darling. "ZIP System is changing the way builders install walls. It's a new way of doing things. LBM dealers can teach customers what it is, but it should not fall to them to be out in the field. Our nationwide team of sales support and live technical support pros are eager to be a collaborative partner with dealers."