Welcome to The Checkout: an express lane for weekly news you need to know, always 10 items or less.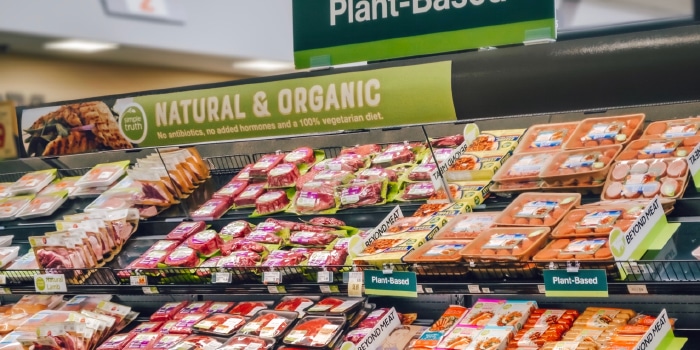 Kroger and PBFA Test Plant-based Offerings in Meat Section
According to research firm Food Marketing Institute (FMI), plant-based meats comprise $878 million in annual sales, which is still much smaller than the $90 billion meat market. Thus, retailer Kroger and the Plant-Based Foods Association (PBFA) want further insights on how consumers, many of whom want to eat less meat, are shopping for plant-based alternatives. To find out more, Kroger and PBFA are partnering for an in-store display test, with three-foot plant-based meat sets added to the meat departments in 60 Kroger stores in Denver, Indiana and Illinois.
The displays, which went up December 9, will run for 16 weeks, while the retailer tracks engagement, monitors dollar and unit sales, and conducts shopper market research. The product lineup includes alternatives for burgers, sausages, deli slices and roasts, along with seitan and jackfruit.
According to FMI, consumer preference on where to buy plant-based meat is divided: 37% prefer the frozen section and 37% prefer the meat section, followed by produce at 26%. Shoppers' mindset and need states help determine the "right" location, FMI notes in its Power of Meat report. Currently, the frozen section accounts for 72% of plant-based meat alternative sales.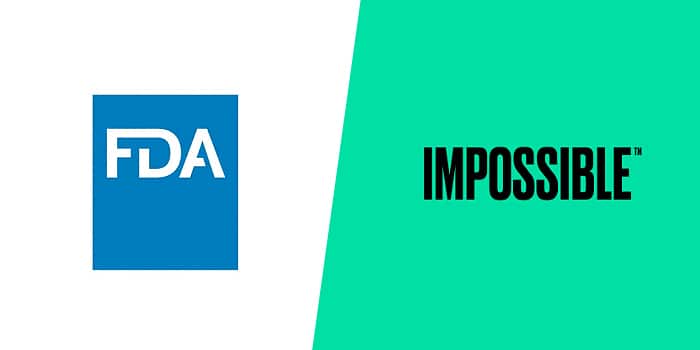 FDA Finalizes Bleeds-Like-Meat Ingredient's Safety
The Food and Drug Administration (FDA) previously released an amendment on the safety of soy leghemoglobin, or "heme protein," which is used to create the Impossible Burger's bleed-like-meat effect. This week, the agency announced its final rule for the ingredient's safety as a color additive is now in effect.
In July, the FDA announced the ingredient as safe right before Impossible Foods entered retail in September. Since then, objections around the ingredient's safety have been proposed to the agency, including from environmental organization Friends of the Earth. However, FDA maintains the ingredient is safe for use and will not hold further hearings on the topic.
"After a thorough review of the objections submitted in response to the final rule, we have concluded that they do not provide any substantive evidence to cause us to change our determination," Dennis Keefe, Ph.D., director of the office of food additive safety at the FDA's Center for Food Safety and Applied Nutrition, said.
Federal Spending Bill Funds CBD Research and Regulation
The U.S. government's $1.4 trillion Fiscal 2020 spending bill was released Monday, signed by Congress this week and sent to President Trump's desk. The bill allocates $2 million for "research, policy evaluation, market surveillance, issuance of an enforcement discretion policy and appropriate regulatory activities," directing FDA to provide the House of Representatives and Senate Appropriations Committees an update on CBD product regulation within 60 days and a study of the current CBD marketplace's ingredient and labeling accuracy within 180 days. Although a review of the current market would only help the industry, setting federal regulation around CBD is necessary to prevent these issues from repeating in the future, Frank Lampe, VP of communications and industry relations at United Natural Products Alliance (UNPA), told NOSH in an email.
"This effort could boost our ongoing efforts to set a clear and effective legal and regulatory pathway and for more effective enforcement of good manufacturing, labeling and quality standards," Lampe said of the study. "But it should not minimize the urgency of acting."
Absent from the bill was legislation proposed by Rep. Jerry McNerney (D-CA) in June to designate CBD as a new dietary ingredient (NDI) — appropriating  $100,000 for the FDA to perform a Health Hazard Evaluation (HHE) and set standards for daily dosing. The bill passed through the House with support from the American Herbal Products Association (AHPA), Council for Responsible Nutrition (CRN), Consumer Healthcare Products Association (CHPA), UNPA and Natural Products Association (NPA), but not through the Senate. It would have also given federal protections to state and tribal cannabis programs.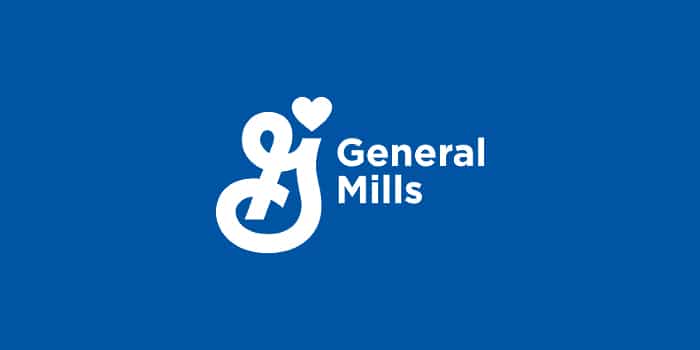 General Mills: Bars Help Fuel Q2 Growth
While cereal slows down, snacking appears to be fueling appetites. In its second-quarter earnings call this week, cereal and snacking giant General Mills reported $17 billion in consolidated net sales in 2019, with snacks bringing growth.
The company saw growth in Häagen-Dazs ice cream, snack bars, and its portfolio of natural and organic food brands, president and CEO Jeff Harmening said during the company's earnings call. Overall, General Mills saw a 1% increase in organic net sales, and though growth was driven primarily by the pet segment, snacks also helped drive sales, Harmening explained.
While net sales in U.S. meals and baking declined, U.S. snacks and yogurt saw increased sales (2% and 4%, respectively.) Retail sales for bar brand Nature Valley improved with the launch of its Crispy Creamy Wafer Bars amid the busy back-to-school season, and Fiber One sales improved after the company reformulated its product line, Harmening noted.
"While we're still lapping distribution losses from earlier this calendar year, our churns per point-of-distribution, an important leading indicator of growth, has stepped up meaningfully across both of these important brands," Harmening said. "Our back-half plans on U.S. Snacks include continued contributions from Nature Valley innovation and the Fiber One renovation, greatly improved distribution on bars and increased brand building behind both bars and fruit snacks."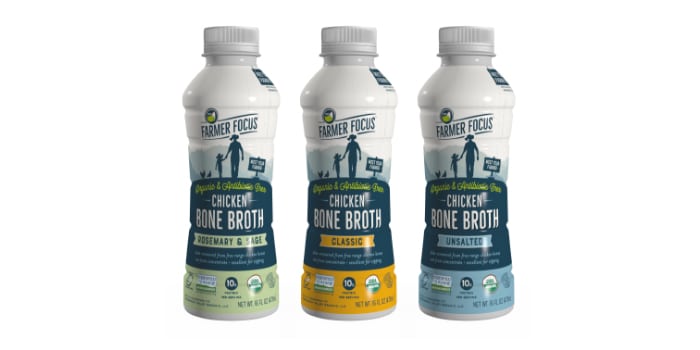 Shenandoah Valley Organic Raises $15M
Organic meat company Shenandoah Valley Organic (SVO) announced this week the closing of a $15 million funding round led by venture capital firm NRV, with participation from Open Prairie and existing investors S2G Ventures and Middleland Capital's VTC Innovation Fund.
Based in Harrisonburg, Virginia, SVO produces organic chicken brand Farmer Focus, which focuses on traceable, clean-label organic chicken products. The brand sells chicken, along with chicken meatballs, breakfast sausage and strips, and debuted chicken bone broth at Natural Products Expo East in September. The funding will help the company scale operations and fuel further R&D, along with increasing marketing efforts, to expand Farmer Focus further into retail.
"We are pleased to add investors and advisors to the SVO team who share in our vision and mission and offer deep expertise across the retail and supply chain," SVO CEO Corwin Heatwole said in a release.