Consumer shopping habits have changed significantly since the advent of ecommerce and smartphones. That fact should be "no new news" to anyone who hasn't lived under a rock for the last 10 or so years.
A recent article in Forbes, "How to Build the Perfect Customer Experience During the Holidays," talks about a shift from retailer control to consumer control of the shopping experience. As such, states the article, retailers now have to be more consumer focused than they have ever been:
"They [retailers] used to be internally focused—and very much centered—on how they pushed product to market, how they placed product in stores," Leslie Hand, vice president of retail insights for the market research firm IDC, says in a recent podcast. "If you put it there, the consumer will come, and you'll sell stuff, right? Whereas, these days, the model is turned on its head and they're very consumer-centric."
I think this a very accurate statement of the new retail reality. Rather than relying on gut instinct, I went looking into our data to see if we can support this notion of greater consumer control over the retail process. Fortunately for me, I didn't have to look too far. Our 2019 Mercator Buyer PaymentsInsights study asks consumers a number of questions on how they shop. In particular, the graph below, which came from our The Merchant Experience: Offline Shopping Is Not Dead report (paywall), jumped out to me.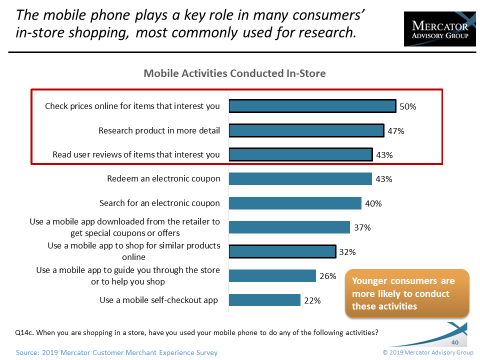 The graph clearly shows how consumers use their smartphones to facilitate the shopping experience. The bars in the box above highlight how the consumer is taking control of the shopping experience; they are checking prices and researching and reading reviews, all while in the store. These activities take control of the customer experience and puts it right into the palm of the consumer.
Another interesting takeaway from this graph is the frequency with which consumers will search for and redeem coupons while in the store.
Consumers now have the upper hand when it comes to shopping, and many of the old rules of retailing have to be rethought. I realize that those in retail have been talking about this issue for a long time, but I wanted to put some empirical data behind it and maybe bring something new to the uninitiated.
Overview by Peter Reville, Director, Primary Research Services at Mercator Advisory Group
Summary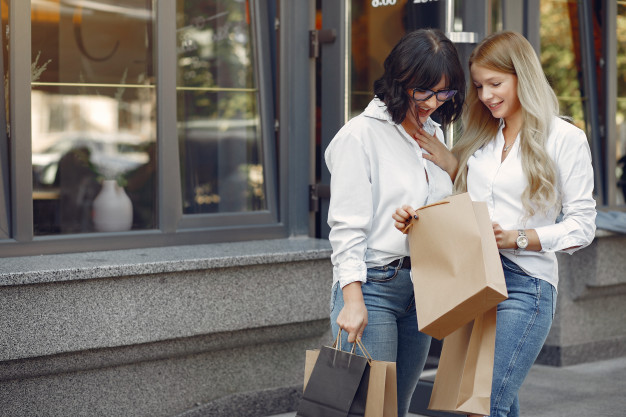 Article Name
The Power Shift in Retail: Upper Hand Goes to Consumer
Description
A recent article in Forbes, "How to Build the Perfect Customer Experience During the Holidays," talks about a shift from retailer control to consumer control of the shopping experience. As such, states the article, retailers now have to be more consumer focused than they have ever been:
Author

Pete Reville
Publisher Name

PaymentsJournal
Publisher Logo