MrWeb 21 YEARS: Remembering 2001
December 12 2019
2001, like 1984, was a year for which fiction had given us very specific expectations, and while disappointingly little coasted through the heavens to the strains of the 'Blue Danube', some MR industry giants certainly soared. Here's our review of the year on DRNO.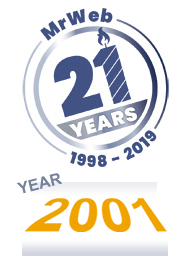 It was for a horror story, in September, that 2001 was to be chiefly remembered – the events of '9/11' stunned the world, and helped launch a global downturn which was to deepen the following year, but perhaps the very enormity of it prevented us from giving it any coverage. We're an industry-focused publication and evidently decided that we couldn't add anything of significance to the graphic images and strong words filling the more general press. Our then-News Editor Nicky Hardy appears to have covered two forthcoming speaker meetings in the September 11th edition, quite unusually – perhaps it was a 'slow news day' in the MR world and she'd been glued as we all were to the TV screens for much of the afternoon.
Turning to the economy, there was perhaps slightly less talk of dotcom giants than in the millennium year, and some pioneering firms found their business model more likely to be challenged, as with Napster. Nevertheless the hiccup of the 'crash' was soon forgotten and the progress of the Internet continued with 60% of Britons now online according to Jupiter MMXI in September – over 33m had used it between April and June. Meanwhile TGI revealed far more significantly that the proportion of adults buying online in the six months to March 2001 rose from 'almost nothing to 30%'.
After four years of Tony Blair's Labour government and with Britain off to the polls – topical! – two DRNO articles might be cited as evidence that nothing changes:
a NetValue survey showed Britain propping up the world broadband league
a December survey found conditions in the NHS 'bleak', with two thirds of consultants saying that new money had not reached their hospital unit.
Our news tapped MORI's findings on postal voting and turnout and the choice facing electors, and even sent researchers off to the polls with some concluding thoughts which might suggest that things do change after all:
'Although the importance of Europe as an issue has increased, it still ranks behind health and education… – the three issues were mentioned spontaneously by 14%, 50% and 39% respectively.
Twice as many people said they liked Tony Blair as disliked him (61% vs 29%). We can think of two or three leaders who'd kill for those ratings today.
The award for sweeping and frankly spurious generalisation of the year goes to the July DRNO headline Women Bored with Clothes Shopping.
In the MR industry, 2001 saw a phenomenal number of acquisitions and investments, with the buoyant GfK leading the way under the guidance of CEO Dr. Klaus Wubbenhorst. In March the firm announced a 24.3% revenue increase, and reported that overseas revenue had risen from 18% of the total to 63% over the last decade. The German giant bought or enlarged stakes in Brazil's Indicator, Portugal's Metris, Britain's Martin Hamblin (a majority share) and ENIGMA, Swedish Net researcher Orange Interactive Research, low countries firm Intomart and Turkey's IBS Marketing Research Services via its ProCon GfK subsidiary. It also bought Romtec Ventures from Total Research, which itself bought Teligen before merging into Harris Interactive. GfK also strengthened its eSolutions online ad hoc unit, via strategic alliances with IBEXnet AG, CIAO.COM AG and Global Market Insite Inc.
Ipsos' acquisitions were fewer in number but large – it acquired 40% of Sweden's IMRI, a majority of Japan's Novaction, US pollsters Riehle Research and most of Poland's Demoskop. Perhaps most significantly it took a major new foothold in the US by acquiring NPD's market research division, including assets in the US and Canada and adding to its two existing North American businesses, ad specialist Ipsos-ASI and opinion survey firm Ipsos-Reid. The NPD acquisition was the largest in Ipsos' 25-year history to date. With all this buying activity and organic growth to boot, the firm's revenues for the first 9 months rose a whopping 54% year-on-year to EUR 332.9m.
Not to miss out, Kantar's Millward Brown bought Italian quallie Delfo, and South African agency Impact Information, while parent WPP bought Mark Penn's Washington firm PSB and Germany's icon. Kantar made a major buy in pharma research with US firm the Ziment Group, and Kantar Media added two companies in France.
TNS grabbed Sports specialist Sponsorship Information Services Limited (SiS), and the worldwide rights to pretesting service the BuyTest and CHOICE systems via deals with two separate companies.
The year also saw the acquisitions of Cambridge Pharma by sector giant IMS Health; Roper Starch Worldwide by UBM, which merged it with subsidiary Audits & Surveys Worldwide, within NOP; and British firms Pegram Walters, by Aegis, MRSL, by Harris Interactive, and Hauck Research Services by Incepta Group plc. UBM also bought US automotive syndicated research publisher Allison-Fisher International, while Harris added Scandinavian firm MMI Group and Sports Marketing bought SRI.
Phew – what a year for acquisitions.
In the UK the BMRA and MRS gave a hint of the merger to come years later, when they decided to combine their directory publications; while at ESOMAR's Conference President John Kelly talked of the profound changes in the industry brought about by 'globalisation and developments in ICT'. Jurgen Schwoerer left the global org at the end of the year after five years as its Director General; while combined US trade association CMOR appointed Larry Mock as its President and CEO. China got a new Marketing Research Association, as the industry exploded there. The MRS named Sally Ford-Hutchinson as Chairman, and launched a new Geodemographics web site. It was the UK's turn to see rapid industry growth while in the US things slowed down according to Honomichl.
Some notable people came and went: Susan D. Whiting was promoted to President and CEO of Nielsen Media; while Phyllis Macfarlane succeeded Ivor Stocker in the top job at NOP. In June Mike Kirkham formally became Group Chief Executive of Taylor Nelson Sofres; in September, Aegis Research made Adrian Chedore its first Worldwide CEO; and in November, 33-year company veteran K.N. Tang retired as Chairman of ACNielsen Asia Pacific, replaced by Frank Martell.
Other large firms had good years too, including ORC generally and with a major contract wins; Nielsen//NetRatings; online ad research firm Dynamic Logic, not yet part of Millward Brown; radio ratings firm Arbitron, which completed the first phase of its PPM market trial; Harris Interactive, aggressively growing its panel coverage; and a resurgent IRI.
In India, ACNielsen, Kantar Media Research (KMR) and the Indian Market Research Bureau (IMRB) announced their intention to form a new joint venture, focusing on 'a highly comprehensive measurement of TV audiences and advertising expenditures within the region' – more of that in later issues.
MrWeb appears to have busied itself with a wide range of launches of new services, including an online research marketplace, the 'Survey Exchange', in January, and an online address book in June; but succumbed to a pioneering bit of fake news in the autumn (we were very new to it then), in the form of an official-looking but in fact malicious email, and was forced to issue a very humble retraction to the injured party. Apart from proving a good lesson in careful journalism, this event also won us our only ever mention (as far as we're aware) in editorial in what was then the paper publication Research magazine. Proving P.T. Barnum's assertion that 'There's no such thing as bad publicity', we experienced a small surge in registrations in the following week, and have never looked back. Touching wood that today's item on 'MR company board in town centre S&M scandal' is legit – Mel are you sure it came from the Wall Street Journal?
This series will continue next week with a look at 2002. We've included rather more than intended in this review of 2001, just because it seemed to be such a fascinating year, but here are some of the other items that piqued our interest in case you're not yet fed up / late to cast your vote (yes don't forget!)
Nielsen Media Research to Launch People Meter Service

Starting with the May sweep in 2002, Nielsen Media Research is to use People Meters as its standard methodology for collecting television audience estimates in Boston in the USA.
Internet Research NetRatings Announces Three-way Merger

NetRatings Inc is to purchase Jupiter Media Metrix, in a transaction valued at approximately USD 71.2 million. In addition, NetRatings will also buy the 80.1% of ACNielsen's eRatings.com shares that it does not currently own for USD 16.4 million. (ACNielsen eRatings.com is currently jointly owned by ACNielsen and NetRatings.)
SPSS Inc. and AOL Announce Alliance To Lead Market For Online Research

SPSS Inc. (Nasdaq: SPSS), a worldwide provider of analytical technology, with their SPSS MR division, the leading strategic technology partner for market research; and America Online, Inc., through its Digital Marketing Services (DMS) subsidiary, the largest source of online survey respondents for market research firms, today announced a strategic alliance under which SPSS Inc. has acquired the exclusive rights to distribute survey sample drawn from more than 31 million AOL members and tens of millions of users of America Online's other interactive properties.
and
Continuing and rounding off the big story from the year 2000:
VNU's Acquisition of ACNielsen Approved
ACNielsen and VNU Complete Merger

Research giant ACNielsen has now successfully joined the VNU family of companies that includes Nielsen Media Research. By merging with VNU N.V, the ACNielsen Corporation has, in effect, created a new company in marketing and media information. The US$2.3 billion merger became effective on February 16th
VNU Restructures Business

VNU, the leading international media and information company, has decided to form a new business group to be called VNU Media Measurement & Information. Following the rapid expansion of the company, it has been decided to organize the VNU, Inc. activities into three separate business groups that represent the different types of business information: Media Measurement & Information, Marketing Information and Business Media.
All articles 2006-19 written and edited by Mel Crowther and/or Nick Thomas.