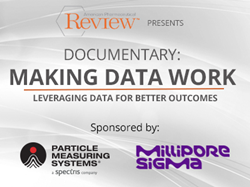 This documentary covers a range of Big Data topics including data collection, storage, and analysis; clinical trials management, using data for better manufacturing, and regulatory aspects and FDA guidance.

SOUTH SAN FRANCISCO, Calif. (PRWEB)
December 09, 2019
American Pharmaceutical Review, the leading review of business and technology for the pharmaceutical industry throughout North America has released its documentary on "Making Data Work: Leveraging Data for Better Outcomes." The goal of the documentary is to examine how pharmaceutical companies are currently using data to produce products, and how they can leverage the ever-increasing amount of data that they are capturing to research, develop, and manufacture future products quicker, with higher quality. By leveraging data this way companies can save time and resources and get needed medications to patients faster – resulting in better outcomes.
The documentary features commentary and outlook from key opinion leaders representing regulatory, industry, consulting and technology providers who offer their thoughts and outlook on the current state of data collection and analysis, industry challenges, and the future outlook for this critical industry topic.
"Data collection has been a common practice for years in the pharmaceutical industry. But with the explosion of devices and technologies to acquire data, there has been an equally large explosion in the amount of data collected. Now that you have all this data what do you do with it? How do you make it work for you?" says Mike Auerbach, Editor In Chief, American Pharmaceutical Review. "In this video documentary we explore how new technologies and strategies are using data to achieve better outcomes. We will look at the role data plays in research and development, clinical trials, scale-up and manufacturing, and supply chain logistics. ".
The market outlook for leveraging Big Data in the pharmaceutical industry is expected to grow in the coming years. According to Research and Markets report "Big Data in the Healthcare & Pharmaceutical Industry 2018-2030: Opportunities, Challenges, Strategies & Forecasts", vendors of Big Data solutions are expected to pocket up to $7B by the end of 2021, up from $4.7B last year. The report goes on to mention that "Drug developers are making substantial investments in Big Data and artificial intelligence-driven drug discovery platforms to shorten the process of successfully discovering promising compounds. In addition, Big Data technologies are increasingly being utilized to streamline clinical trials, enabling biopharmaceutical companies to significantly lower costs and accelerate productive trials."
Furthermore, the same report says, "Big Data and advanced analytics are driving a paradigm shift in the healthcare and pharmaceutical industry with multiple innovations ranging from precision medicine and digital therapeutics to the adoption of accountable and value-based care models."
For more information on this American Pharmaceutical Review documentary on Making Data Work: Leveraging Data for Better Outcomes please visit https://www.americanpharmaceuticalreview.com/Making-Data-Work/.
About American Pharmaceutical Review

American Pharmaceutical Review is the leading journal for business and technology in the pharmaceutical industry. Offering unbiased editorial on drug delivery, information technology, research & development, analytical development and control, equipment and facility manufacturing and regulatory affairs, American Pharmaceutical Review keeps its users fully abreast of the latest trends and developments in the process of pharmaceutical manufacturing. http://www.americanpharmaceuticalreview.com.
Share article on social media or email: