strike, noun
1. a refusal to work organized by a body of employees as a form of protest, typically in an attempt to gain a concession or concessions from their employer…
I hope everyone had a pleasant enough Thanksgiving Day… whether you celebrated the holiday with family… or worked all day at a job and maybe grabbed a sandwich for dinner.
I believe most public school teachers in Colorado were blessed with a four-day weekend… which, I believe, is not the norm nowadays for US employees, unless they work at banks or at government jobs.
I ended Part Four of this editorial series on Friday, asking if we know where all the public school money is going, if it's not going into teacher salaries. I'd looked up the Colorado budget for K-12 education for the school year 2006-2007 — prior to the Great Recession — and found a figure of $3.8 billion. Then I looked up the 2018-2019 school year spending for K-12 and found the figure $7.1 billion. That appears to be an increase of more than 80% in twelve years. During that same period, the student enrollment increased by 15% and the number of Colorado teachers increased by 9%. If those figures are accurate (disclaimer: I obtained them from government websites) then we probably want to know where most of the $3.3 billion in added K-12 funding went, because it apparently didn't go into Colorado teacher salaries.
On November 14, 2019, reporter Erica Meltzer published a Chalkbeat.org article about the efforts by the Colorado Education Association — the state's largest teachers union — to influence the funding decisions pending this coming winter in Denver:
Colorado's largest teachers union says most of its members are prepared to participate in walk-outs if the state does not significantly increase education funding and teacher pay.
In its first 'Colorado State of Education' report, the Colorado Education Association laid out a number of legislative priorities for 2020 based on a member survey and a 13-stop listening tour around the state. Topping the list: Improving teacher pay.
Teacher pay in Colorado ranks among the least competitive in the nation when compared with other professions that require a college degree, and turnover rates have risen since the Great Recession, when lawmakers started holding back money the state constitution promises to schools to pay for other budget priorities.
Chalbeat.org reporter Erica Meltzer and I had slightly different readings of CEA's 12-page 'Colorado State of Education' document. Although "improving teacher pay" was cited as especially important by the focus groups, what appears to "top the list" for CEA members in general was overall school funding, improved working conditions, and better student supports — not necessarily salary increases in particular.
From the CEA report:
According to a CEA all-member survey conducted in Spring 2019, 72% of members believe "improving working conditions and student supports and ensuring we have the funding to do so" is their top priority. Further, 92% of educators surveyed support legislation stopping corporate tax breaks until education is fully funded in Colorado.
The "member survey" mentioned in Ms. Meltzer's article appears to have involved about 500 CEA members — an admittedly small sampling out of 51,000 public K-12 teachers working in Colorado, but perhaps a representative sample? A couple of particular survey results may be worth mentioning.
The focus groups were asked how far they would go in an effort to increase the amount of taxpayer revenues applied to education in Colorado, based on the following list of possible actions: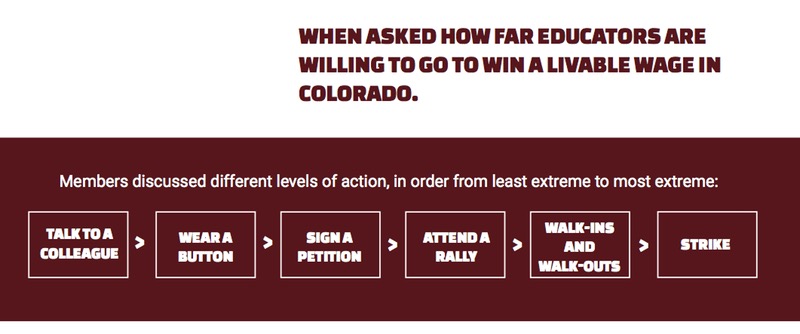 At the least threatening end of the range… would the focus group teachers be at least willing to "talk to a colleague"?  Presumably, this means, "Talk to a colleague about taking political action…" knowing that your colleague might possibly report you to the principal, for example, as an agitator.
At the most extreme end of the suggested range, would you be willing to participate in a strike?
From the CEA report: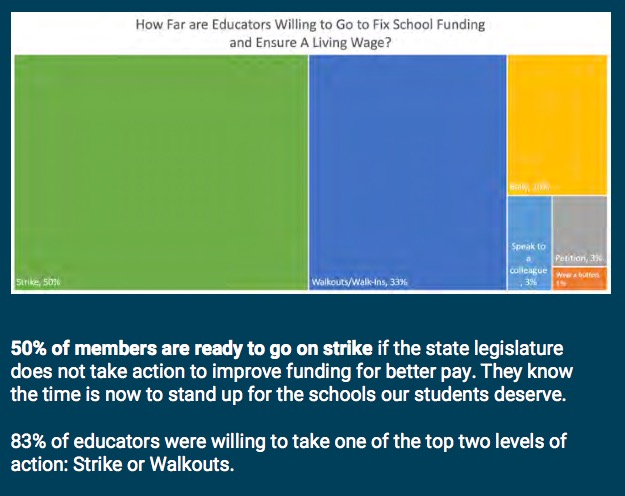 From what I can tell, the CEA conducted focus groups with 500 "highly engaged" union members, and found that 50% of them were willing to go on strike — this next spring? — for "better pay."  Another 33% of "educators" would be willing to participate in a "walkout" — a temporary work stoppage — but perhaps would not participate in a strike.
From Ms. Meltzer's Chalkbeat.org article:
These results don't come from a statistically valid poll, but from a survey of some of the most engaged of the union's 38,000 members. Nonetheless, union President Amie Baca-Oehlert said the results reflect pent-up frustration from educators around the state and a genuine appetite for what she called "bold action."
In highlighting a willingness to walk off the job, Baca-Oehlert said the union is not making a threat, but trying to make it clear how strongly educators feel about this issue.
"I would not call it a threat," she said. "I would call it a call to action and a call for collaboration."
Colorado teachers staged a two-day rally in April 2018, at the Capitol in Denver, effectively closing schools for about half of the state's students, and teachers in three school districts have since staged strikes, with mixed results. But CEA's encouragement of teacher activism failed, last year, to result in hoped-for policy changes, in spite a generally education-friendly Democratic Party controlled legislature. One of the union's top priorities — an overhaul of the Colorado Department of Education's controversial teacher evaluation system — didn't even make it out of committee.
But we've not yet answered the question: if public K-12 education has indeed seen a funding increase of 80% since 2006 — during one of the most challenging recessions in Colorado history — where did the money go?
If teachers are still struggling to pay the rent in Colorado…
Read Part Six, on Monday…