Market Update | The Indian indices traded lower on Tuesday afternoon dragged by selling in banks, financials and pharma stocks. However, buying in IT, FMCG and metals limited the decline. Sensex is down marginally by 14.97 points at 40,578.83. ICICI Bank, Bajaj Finance and Titan Company are the top index losers while HCL Technologies, UltraTech Cement and Kotak Mahindra Bank are the top gainers.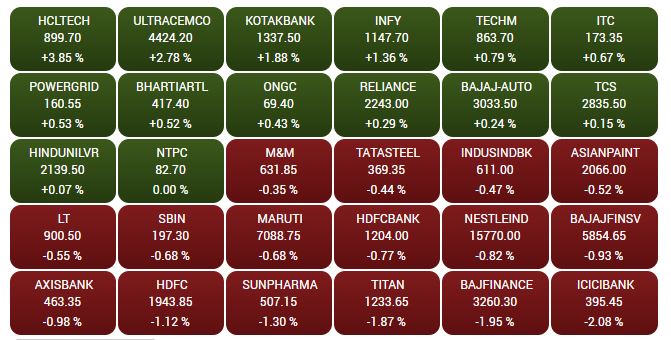 Yash Gupta- Equity Research Associate, Angel Broking Ltd
Alembic Pharmaceuticals Limited associate Company, Rhizen Pharmaceuticals  has entered into an exclusive license agreement with Curon Biopharmaceutical Limited for development and commercialization of Tenalisib, a Dual Pl3K Delta and Gamma Inhibitor for Oncology in Greater China. Rhizen Pharmaceuticals S. A. (Rhizen), a Switzerland-based privately held clinical-stage biopharmaceutical company, and Curon Biopharmaceutical Limited (Curon), a clinical-stage innovative biopharmaceutical company with facility in Shanghai announced today that they have entered into an exclusive license agreement for the development and commercialization of Tenalisib in the Greater China region.
Under the terms of the agreement, Rhizen will receive an undisclosed upfront cash payment and is eligible to receive additional development and commercial milestone payments with an overall deal value of $149.5 million plus double-digit royalties on annual net sales of Tenalisib.
European Markets: European stocks opened flat on Tuesday with investors waiting for earnings season to kick off in the U.S., while watching the latest China data and coronavirus developments. The pan-European Stoxx 600 hovered around the flatline at the start of trading, with travel and leisure stocks falling 1 percent while utilities gained 0.5 percent. The lackluster open comes as investors brace themselves for the first batch of corporate earnings and updates on a U.S. stimulus package. U.S. stock futures fell slightly in overnight trading ahead of third-quarter earnings season that starts on Tuesday. (Source: CNBC International)
Cement shares gain on Jefferies rating upgrade; Ramco Cements rises 5%, UltraTech gains 4%
Cement stocks rose on Tuesday after brokerage house Jefferies turned constructive on the sector and believes that the demand outlook is improving. It has revised estimates for volumes, realisations and operating costs. The brokerage upgraded the EBITDA estimate for the sector by 4-5 percent over FY21-23.
Individually, the brokerage upgraded Ramco Cements to 'buy' with a target at Rs 900 per share. The stock rose as much as 5 percent to Rs 795.50 on BSE following the upgrade.
Jefferies also upgraded UltraTech Cement to 'buy' with a target at Rs 5,150 per share lifting the stock 4 percent higher to Rs 4,473.30 per share on BSE.
Shree Cement also added 2.6 percent to Rs 21,501.50 per share after an upgrade by the brokerage from 'underperform' to 'hold' rating with a target at Rs 23,000. Read more
Mazagon Dock's shares rise over 2%; stock up 21% from issue price
Mazagon Dock Shipbuilders' share price rose on Tuesday after a healthy debut a day before. The stock was listed with 49 percent premium as against its issue price on Monday. At 11:55 am, the shares traded 2.44 percent higher to Rs 176.15 per share on the NSE.
On Monday, the stock lost more than half of its gains after investors jumped to book their profits. However, the IPO was subscribed 157 times, indicating strong interest.
The main objective of the company would be now to carry out the disinvestment of 3,05,99,017 equity shares by the government and achieve the benefits of listing the shares on the stock exchanges.
Brokerages had a positive view on the company given the unique business. For the financial year ended March 2020, Mazagon Dock Shipbuilders reported a revenue of Rs 5,566 crore while its profit stood Rs 415 crore.
UTI AMC shares rise nearly 8%, still trading at a discount against issue price
The share price of UTI AMC rose nearly 8 percent to hit a high of Rs 513.50 per share on the BSE on Tuesday. The stock, however, is still trading over 7 percent lower compared to its issue price of Rs 554.  UTI AMC got listed on Monday at a 13 percent discount as against its issue price. About 4,71,522 shares exchanged hands today, as per the NSE data. The issue opened on September 20 and closed on October 1. UTI AMC is the second-largest asset management company in India in terms of total assets under management, and also has the largest share of monthly average AUM amongst the top ten Indian AMCs coming from cities beyond the top 30.
Housing sales value jumps 134% in September quarter to Rs 30,000 crore in top 7 cities
Housing sales value in the quarter ended September has seen a massive increase of 134 percent over the June quarter. Data suggests that the worst seems to be over for the Indian residential sector as sales went up in the September quarter of 2020 as end-users are making the most of bottomed-out property prices and historic low home loan rates and financial schemes offered by developers. According to a report by ANAROCK Property Consultants, despite the ongoing pandemic, housing sales value in the top 7 cities in July-September period collectively rose to Rs 29,731 crore as against Rs 12,694 crore in the preceding quarter – a significant QoQ jump of 134 percent. More here
Gold rate today: Yellow metal falls below Rs 51,000 per 10 grams; support seen at Rs 50,500
Gold prices in India traded lower on the Multi Commodity Exchange (MCX) Tuesday tracking a muted trend in the international spot prices. Silver prices also declined by 1 percent. At 10:50 am, gold futures for December delivery fell 0.48 percent to Rs 50,860 per 10 grams as against the previous close of Rs 51,107 and opening price of Rs 50,870 on the MCX. Silver futures traded 0.83 percent lower at Rs 62,577 per kg. The prices opened at Rs 62,401 as compared to the previous close of Rs 63,098 per kg. "Gold prices fell as the dollar witnessed a rebounded amid uncertainty over economic stimulus package in the US. The yellow metal is likely to remain sideways ahead of macro data from the US which is expected to pressurize the dollar. Silver prices declined after witnessing a pullback from yesterday's gains," said Ajay Kedia, director, Kedia Commodity Comtrade.
Burnt your fingers in Vedanta? Here's Deepak Shenoy on how to approach the stock
Vedanta Ltd's proposal by its promoter group, headed by billionaire Anil Agrawal, to delist its shares from Indian bourses has failed as the number of shares tendered by shareholders was less than the minimum number of shares required to complete the offer. In an interview to CNBC-TV18, Deepak Shenoy of Capitalmind spoke at length about delisting and the Vendata stock in particular. "They have written down the book value quite substantially by taking a loss and that has brought the book value down to Rs 87 which was much higher earlier," he said. Watch video for more
Happy with GMM Pfaudler's OFS approach; remain bullish on stock: Saurabh Mukherjea
Saurabh Mukherjea of Marcellus Investment said in an interview with CNBC-TV18 that he was impressed with the GMM Pfaudler management's actions over the last year. "I have always believed that never judge any company by its stock price, look at the management's actions and here we have been deeply impressed by what GMM Pfaudler has done," he said.
He said his fund invested in the stock a year ago and is now sitting on a 100 percent profit. The recent Offer-For-Sale (OFS) by the company's promoters at a steep discount to market price triggered a sell-off in the stock and aso drew criticism from the market. But Mukherjea said he was pleased with the way GMM Pfaudler went about their OFS and that he remained positive on the stock. Watch video for more
Rupee Opens | The Indian rupee opened 13 paise lower at 73.40 per US dollar against yesterday's close of 73.27 per dollar.
Technical View | The Nifty has opened on a flat note; it has good support at the 11,800 levels and till that level is not breached, we could use any dip to accumulate long positions. The resistance on an intraday basis is at 11,950 and if we can keep above that, we could go back to 12,000 and then 12,200, says Manish Hathiramani, Proprietary Index Trader and Technical Analyst, Deen Dayal Investments.
Evolving one issue at a time: SEBI alters rules to prevent Franklin Templeton-like cases
The Securities and Exchange Board of India (SEBI) is planning to impose an additional charge on the redemption of debt funds in stressed schemes to ensure sufficient liquidity to meet redemption stress. This comes in a few months after Franklin Templeton closed its debt funds, citing redemption pressures and lack of liquidity in the bond markets. The closure led to assets under management for these schemes decline by about half. "The regulator is also working on dissuading excessive redemptions by imposing an additional charge on redemptions in stressed schemes, and install[ing] a mechanism where asset managers could take up the illiquid paper on their books," a SEBI official said, according to Mint. More here
Shubham Agarwal, CEO & Head of Research, Quantsapp Advisory
Buy Dr Reddy's Laboratories (DRL). 5,400 strike Call option can be bought for a target of Rs 220 with a stop loss at Rs 130.
Buy Asian Paints. 2,100 strike Call option can be bought for a target of Rs 74 with a stop loss at Rs 45.
Sell Oil and Natural Gas Corporation (ONGC). 70 strike Put option can be bought for a target of Rs 5 with a stop loss at Rs 2.5
Opening Bell: Sensex opens marginally lower, Nifty holds 11,900; auto, banks fall 
Indian indices opened with minor cuts on Tuesday following muted trends in Asian peers. Losses in banking and auto stocks were, however, capped by gains in IT and metal sectors. At 9:18 am, the Sensex was down 77 points at 40,516 while the Nifty fell 24 points to 11,907. Broader markets were also in the red with midcap and smallcap indices down 0.4 percent and 0.2 percent, respectively. Among sectors the bank index fell 1 percent while the fin services index lose 0.7 percent in early deals. Nifty Auto was also down half a percent, however, Nifty IT, Nifty Metal and Nifty Pharma were in the green.
US Presidential Elections 2020: Trump tests negative for COVID-19, resumes campaigning in Florida
President Donald Trump has tested negative for COVID-19 on consecutive days and is not infectious to others, the White House physician said on Monday, as Trump headed to Florida for his first campaign rally since he disclosed he contracted the virus. Trump's evening rally at an airport in Sanford, Florida, will kick off a three-week sprint to Election Day as new polls show him losing more ground to Democratic rival Joe Biden in two battleground states that could decide the Nov. 3 contest. The president's negative COVID-19 tests were the first announced by the White House since Trump, who spent three days in a military hospital, said on Oct. 2 that he contracted the virus. In a memo, Dr. Sean Conley said the tests and other clinical and laboratory data "indicate a lack of detectable viral replication." Biden also tested negative for COVID-19 on Monday, his campaign said in a statement. The former vice president has tested negative a number of times since Trump announced his positive test.
Oil prices steady amid return of supply, while COVID-19 lockdowns tighten
Oil prices were steady in early trade on Tuesday, sitting on losses of nearly 3% from the previous session after supplies began to resume in Norway and the U.S. Gulf of Mexico and Libya resumed production at its largest oilfield. The return of supply comes as resurgent COVID-19 infections in the U.S. Midwest and Europe raise worries about fuel demand growth, posing a challenge for the Organization of Petroleum Exporting Countries and its allies, together called OPEC+. OPEC+ has curbed supply to help shore up oil prices amid coronavirus pandemic, with cuts of 7.7 million barrels per day due to hold through December. The producers' market monitoring panel is due to meet next Monday
Reliance Jio adds 3.55 million users in July; Vodafone Idea loses 3.7 mn subscribers, says TRAI report
Reliance Jio added 3.55 million users to its subscriber base in July 2020, while the newly-rebranded Vodafone Idea or Vi, lost 3.7 million users, according to the Telecom Regulatory Authority of India's (TRAI) latest telecom subscription data report. Bharti Airtel added net 3.26 million wireless subscribers during the month. The top five service providers constituted 98.91 percent market share of the total broadband subscribers at the end of July 2020. Reliance Jio retained its position as the top wireless broadband provider with 400.80 million users, followed by Bharti Airtel at 153.25 million subscribers and Vodafone Idea at 115.26 million subscribers.
First up, here is quick catchup of what happened in the markets on Monday
Indian indices ended higher for the eighth straight session on Monday led by gains in IT, pharma and FMCG stocks. However, losses in financials, metals and auto stocks capped the gains. The Sensex ended 84 points higher at 40,594 while the Nifty rose 17 points to settle at 11,931. Broader markets underperformed benchmarks with the midcap and smallcap indcies down 0.6 percent and 0.3 percent, respectively. Among sectors, Nifty IT surged the most, up 1.7 percent while the pharma and FMCG indices added 0.9 percent and 0.3 percent, respectively. However, Nifty Bank and Nifty Fin Servcies lost half a percent each for the day. Nifty Metal and Nifty Auto were also down 0.9 percent and 0.75 percent, respectively. ITC, Infosys, UPL, Cipla and Asian Paints were the top gainers on the Nifty50 index while Bharti Airtel, JSW Steel, GAIL, HDFC Life and Tata Motors led the losses.
Welcome to CNBC-TV18's Market Live Blog
Good morning, readers! I am Pranati Deva the market's desk of CNBC-TV18. Welcome to our market blog, where we provide rolling live news coverage of the latest events in the stock market, business and economy. We will also get you instant reactions and guests from our stellar lineup of TV guests and in-house editors, researchers, and reporters. If you are an investor, here is wishing you a great trading day. Good luck!