ESOMAR CONGRESS FEATURE: Finn's Favourites
October 7 2019
ESOMAR held its annual Congress in Edinburgh last month. Here its Director General Finn Raben chooses his top 3 (or 4) presentations.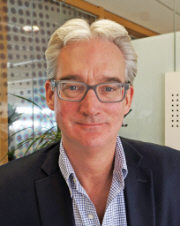 Finn writes:
It's almost always spring for the data and insights industry, where new ideas and technologies constantly blossom, bringing to life innovative projects and previously unheard-of technologies. This year's recent ESOMAR Congress brought the global insights community together to hear and present the latest and greatest developments in data, research and insights.
ESOMAR Congress is one of the biggest industry conferences globally and we are honoured that it has been our profession's first choice platform for showcasing data, research, transformative practices and insight innovation for over 70 years. Technology, big data, behavioural science and the social power of research are just some of the topics that have been at the forefront of this latest conference. Although it has been hard to pick, here are three or four of my personal highlights from the conference:
1. How to (really) get through to people
Are you objective enough to give an accurate description of yourself? The answer is probably no. The 'Best Presentation' award winning session by Kantar and Ogilvy, looked at how behavioural science and cognitive segmentation techniques can be leveraged to create more effective campaigns. Having noticed the problems with previous methods, Jon Puleston and Christopher Graves reinvented personality testing to provide better differentiation and internationally stable techniques that would be more useable for market research.
Classical personality tests rely on self-assessment measures which are often not accurate, as people frequently fail to be auto critical. The Competitive Choice Prioritisation (CCP) is a more efficient method which instead of using prompted agreement scale, asks respondents to prioritise the personality traits that describe them the most. The result is cleaner data and quicker answers; however, it still presents a certain level of inaccuracy – so what's the solution? Using behavioural measures that are easier for people to answer truthfully is surprisingly effective; asking 'what are your drawers like?' and providing two pictures to pick from (one tidy and one not), resulted in far more effective and illustrative results, than simply asking 'are you disorganised?'.
Combining multiple behavioural measures helps providing a more reliable assessment of personality. Through this new technique, respondents can be channelled into more accurate psychographical categories, which can then be targeted with the relevant messaging to maximise marketing strategies efficiency. This is a 'level up' not only for marketers, but also for HR and Recruitment functions!
For example, smokers' personality traits (rebel, and not conforming to the masses) show that they are less likely to react to the 'threatening' images on cigarette packets, as they simply blank them out. Instead, this study shows how smokers react to positive emotional messages that focus on external reasons, such as family or relationships. Smokers rated positive ads higher and spent longer viewing them than non-smokers.
2. The sound of the future
'Noisy' cars have shaped pedestrians' way of moving around the city for over a hundred years: we know when a car is stopping, approaching, accelerating without even having to look at it, however things are changing. With growing concern over the environment and fears over burning fossil fuels, the electric car market has rocketed over recent years. This positive change has been populating our cities with vehicles that wander silently around the streets, sometimes ambushing oblivious pedestrians.
The lack of noise produced by electric cars and the safety threat that this poses to pedestrians have been raising concerns. In fact, there is now a global regulation that means all electric vehicles will have to emit sound when driving at under 30 miles per hour by 2020.
Are you ready to say goodbye to the roaring engine noise? Well, while the 'petrol heads' amongst us may not be, Sentient Decision Scienceand Man Made Music found what is the most effective sound for electric cars. The aim of the project was to come up with a specific sound for Nissan electric vehicles to increase safety while also sounding appealing and fitting with Nissan's brand architecture.
To measure the most effective sounds, Sentient Decision Science built an approach around eye tracking and implicit association testing. They tested sounds from two different soundscapes against the noise from an internal combustion engine in a full visual area (busy parking lot and street scene with an intersection) to measure how quickly pedestrians' eyes were drawn to safety concerns, whether they were able to identify the car's specific actions (acceleration, deceleration, reverse etc) and to see if the noises fit with Nissan's brand attributes. Their findings showed that the first soundscape performed better than both the second and the internal combustion engine.
This research has been pivotal in the advancement of the science of sonic research by developing the testing of visual stimuli for sound. Sentient Decision Science provided key insights into consumer reactions so that Nissan can now understand the full experience of their electric car – from both in, and out of, the driver seat!
3. 'On Sale' means fail!
Pass or fail? Fashion retailers can now ask consumers if their products are going to pass the 'shelf test' or will end up in the sales pile. Cally Russel of Mallzee Insights explained how the power of insights can save retailers and transform the fashion industry.
Cally revealed that usually almost half of fashion products are discounted during their life cycle and only 3% sell out during their launch week. To improve these figures, retailers need to abandon historical, top level data and look to forward facing, product linked data – with a real emphasis on customer-centricity. With this in mind, Mallzee launched a 'Tinder-like' app allowing retailers to test out new products with their customers, before they commit to stock.
The app allows consumers to swipe right (like) or left (don't like) on items of clothing that are not yet on the market. Thanks to the data collected by the app, brands were able to understand what would or wouldn't sell well and can now make informed decisions on what to order and how much. App users were able to grow margins by up to 6.1% – a not inconsiderable growth in the ultra-competitive fashion industry.
The future is not that far! Thanks to evolving technologies researchers have the power to unlock new insights which can help businesses formulating better decisions, and thereby achieve real business growth – while serving their customers better.
4. To beacon or not to…
Lastly, an honourable mention must also go to the presentation by F1 and Mesh, which showed that the insights gained from using sensor technology to monitor crowd movements at F1 events, provided real learnings in how to maximise fan engagement and commercial opportunities – and resulted in improved attendance numbers and fan satisfaction. Having been used at 9 F1 events in 2018, a further 12+ are planned for this year.
While the technology may not be new, the application of this capability has significantly changed the way that brands interact with fans during F1 events, taking engagement to the next level.
All articles 2006-19 written and edited by Mel Crowther and/or Nick Thomas.